Fall/Winter 2008
Lecture series to honor Cottrell
Fred "Doc" Cottrell, a man from a working class, railroad family in Milford, Utah, achieved worldwide recognition for his contributions to society. Of his four published books, Energy and Society: The Relation Between Energy, Social Change, and Economic Development is still highly regarded among those in the fields of sociology and economics. But perhaps his greatest contributions were made late in life, to the field of gerontology.

Now, Cottrell's sons, Bill `52 and Bob `54, are honoring their father's contributions to gerontology with an endowed lecture series in his name. The W. Fred Cottrell Distinguished Lecture Series will be operated by the Scripps Gerontology Center. Gifts to the endowed fund have been contributed by Cottrell family members, as well as friends of the family.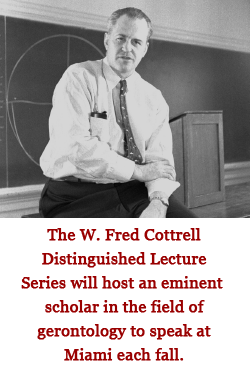 Cottrell, who accepted a teaching position at Miami University in 1930, was an interdisciplinarian before the world knew how to define the term. After sending 200 letters to universities across the county, Cottrell received one response - from Miami University. There were part-time positions available in both sociology and political science. Cottrell responded that he would accept both.

"He was a man of many talents," said Bill."He was always falling into things, and his interests were many and varied. He also wasn't a typical professor. He was the only one of his siblings to attend high school and college. His background really shaped who he was."

Cottrell continued to teach political science and sociology for many years and, with the help of a few colleagues, created a handful of interdisciplinary courses. Ultimately, most of these courses were seen as competition to departments focused on specific areas of study and were not supported by the university.

After decades of teaching and researching topics that interested him, Cottrell was named the third director of the Scripps Foundation for Research in Population Problems in 1964.

"Dad didn't retire at typical retirement age, and his physical ailments led him to investigate what was being written and researched regarding aging populations," said Bob."He decided Scripps could broaden its focus from population to gerontology issues." Four years earlier, in 1960, Cottrell had contributed two chapters to"A Handbook of Social Gerontology," the first publication to address aging from a social science perspective.

Soon after his appointment to the Scripps Foundation, Cottrell began steering the work of the Foundation to the broader areas of sociology and aging. By the early 1970s, Scripps and Miami University had attained national prominence in the relatively new field of gerontology. And, Cottrell had proved influential in the first two White House Conferences on Aging (1961, 1971).

"Dad was well-known and well-thought-of in political science and gerontology. He wasn't hesitant to speak his peace about what needed to be done," said Bob.

In 1976, two years after Cottrell stepped down as director of the renamed Scripps Gerontology Center, the U.S. Administration on Aging honored the Center as one of only seven multidisciplinary centers on aging in the country.

Today, the Scripps Center emphasizes research and the support of multidisciplinary education in gerontology. It also provides leadership in the profession, technical assistance, and service to the community, planners, providers, policy makers, and other professionals. Perhaps the most noteable authority on aging topics in the nation, the Scripps Gerontology Center's faculty and staff is truly interdisciplinary, with backgrounds in sociology, psychology, anthropology, zoology and more.

"Dad was a man before his time," said Bob."He used to say that no one can live by themselves and sharing different points of view is how we will survive in this world."

"The idea of funding this lecture series is not to recognize our father but to bring speakers with a breadth of experience in the field of gerontology to Miami so faculty and students can benefit."

The W. Fred Cottrell Distinguished Lecture Series will host an eminent scholar in the field of gerontology to speak at Miami each fall. Each speaker will also be awarded The W. Fred Cottrell Distinguished Alumni Award, along with an honorarium. All W. Fred Cottrell Distinguished Lecture Series Speakers will also be Miami graduates that have excelled in fields related to aging.

Fundraising efforts are ongoing, as an anonymous donor recently launched a challenge grant, committing to match every new gift to the fund, up to $15,000. For more information or to make a gift to the W. Fred Cottrell Distinguished Lecture Series, contact Ellen Paxton, development liaison to the Scripps Gerontology Center at 513-529-9356 or paxtonec@muohio.edu.
Back to the Giving Tribute Fall/Winter 2008

COMMITMENT
UPDATE
Gifts Received between July 1, 2007 and September 30, 2007.

A number of major gifts and pledges highlighted another successful quarter in The Miami University Campaign For Love and Honor. Among the most generous commitments are the following:

$1.8 million from the estate of Dickinson T. Guiler `49 to supplement and balance the 13 scholarship endowments established by Guiler during his life.

$1 million from Lois Theis `52 to support Miami's botany program and environmental research center.

$900,000 from the estate of Lillian Hermann `38 to support scholarships for fine arts students.

$729,000 from the estate of Hal Ebersole `42 for Spanish and Portugese programs with the Farmer School of Business.

$500,000 from Ronald Flores to support student scholarships.

$300,000 from Janet Baines for an endowed professorship.

$300,000 from Rosemarie McDill to support student scholarships.