Spring/Summer 2006
Campaign Update
Campaign taking great strides in first quarter of 2006

Monumental strides in The Miami University Campaign For Love and Honor have pushed the campaign total significantly closer to the goal of $350 million, due in part to a record-breaking week in February.

In the first quarter of 2006, the division of university advancement announced the receipt of several large gifts, for a combined total of $22.7 million. Included in that total was a commitment from Lois Klawon `39, a retired administrative assistant from the Cleveland area who passed away in 2005. Klawon left 50 percent of her estate to Miami, or approximately $15 million. The gift is for scholarships for needy students.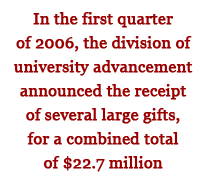 In addition, William Mayhall `69, of Okatie, South Carolina, committed $6.7 million in an unrestricted gift for the Richard T. Farmer School of Business.

Other gifts received in the first quarter include a $1 million unrestricted commitment from David Burr `57 of Savannah, Ga. Burr is retired from Rollins Leasing Corp. where he served as the President/CEO.

"Commitments of this size are not a common occurrence and they are the result of relationships and cultivation by several people and for several years. I am proud and grateful for the dedicated efforts of the University Advancement staff," said Jayne Whitehead, vice president for university advancement.

In other campaign news, the regional campaign effort will proceed with several events held around the country this fall. The campus campaign is fully underway and campaign staff are beginning preparations for the launch of the Alumni National campaign.

As of April 30, the campaign total had reached $223 million. A running campaign total is online at www.forloveandhonor.org, and updated daily. Articles featuring new gift commitments, campaign construction, Miami updates and more are posted to the website every two weeks.


Back to the Giving Tribute Spring/Summer 2006

COMMITMENT
UPDATE
Gifts received between January 1, 2006, and March 31, 2006.
Several major gifts and pledges were made during the last quarter to the Miami University Campaign For Love and Honor. These commitments include:


$15 million from the estate of Lois Klawon `39 to benefit university-wide, need-based student scholarships through the Lois K. Klawon Scholarship Fund.


$6.7 million unrestricted gift from William Mayhall `69, in a charitable remainder trust, to benefit the most pressing needs of the Richard T. Farmer School of Business.


$4 million pledge from Thomas Petters to create the Jennifer Petters Chair in Asian Business in the Richard T. Farmer School of Business.


$1 million unrestricted pledge from David Burr `57, to address the most imperative financial requirements of the university.