Summer 2007
American Greetings Creates Graphic Design Scholarship

When corporate America joins forces with higher education to provide resources, research opportunities and scholarship support, the impact on students and their educational experience can be profound.

In April, a substantial pledge from American Greetings, a leader in the greeting card industry, established the American Greetings Endowed Scholarship for Excellence in Graphic Design, providing annual scholarship support to a deserving sophomore entering Miami's graphic design program. According to Dan Weiss, senior creative recruiter at American Greetings, the fact that Miami is one of a select group of institutions to receive this type of support speaks of the relationship between American Greetings and Miami University.

"We look at this as a partnership that is, ideally, mutually beneficial," Weiss said. "We have a number of Miami graduates working for us, including a few who have risen to the management ranks. Through supporting the arts and the educational process, it places a company such as ours in position to reap future rewards."

Students wishing to enter Miami's graphic design program enroll in Miami's art department as freshmen and must apply for admission into the graphic design program at the end of their first year. Approximately 20 students are admitted annually through a selective portfolio admission process. According to Peg Faimon, a professor in Miami's art department, the newly created scholarship will be awarded each year to the applicant who submits the top portfolio, with the applicant's interview and presentation of the portfolio also figuring into the equation.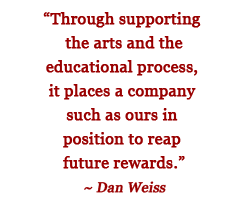 "It's a great gift because an endowment is always there," Faimon said. "Each year it will help a promising student with books or supplies, but the biggest benefit is our ability to reward and draw attention to outstanding work. Earning a scholarship with such a prestigious name on it is a tremendous honor and confidence builder for a student."

While the scholarship is directed toward Miami's graphic design program, Weiss emphasized that American Greetings' relationship with Miami goes beyond the artistic realm.

"Our relationship with Miami isn't just visual and design," Weiss said. "We hire across the board, including business and marketing majors. Along with receiving a well-rounded education, Miami students possess strong leadership skills, communication skills and the ability to collaborate with a diverse group of professionals. Those skills parlaywell with what our employees do on a daily basis."

Back to the Giving Tribute Summer 2007

COMMITMENT
UPDATE
Gifts received between Jan. 1, 2007, and March 31, 2007.

A number of major gifts and pledges highlighted another successful quarter in The Miami University Campaign For Love and Honor. Among the most generous commitments are the following:


$1,750,000 from Lova Riekert '31 to support the Dillman Scholarship Fund for assisting students in need of financial support.


$638,947 from Virginia Ann Todd '40 to provide a perpetual fund that will be used for scholarship support.


$600,000 from Cornelia Polasky-Holt to endow the Parseghian-Pont-Kurz Football Scholarship.


$523,038 from the Oliver & Peg Amos Foundation, Inc., to support the J. Oliver Amos Alumni Scholarship.

As of June 30, the campaign
had raised $274,437,905.

Please note: In the winter 2007 issue of Giving Tribute, the gift credited to James Naus should also be credited to Susan Naus '67.