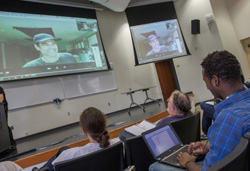 With the expected growth of eLearning as an alternative mode of delivering instruction at Miami University, it is critical that the University establish a set of guidelines to ensure the consistency and quality of eLearning.
The eLearning Advisory Council (eLAC), co-chaired by Dean Carine Feyten and Cheryl Young, comprises faculty and staff who are familiar with the use of technology in delivering instruction and appointed by the Provost with recommendations from division deans. The Council is expected to play an important advisory role in recommending eLearning initiatives and policies, recommending services that should be provided to students and faculty, and setting guidelines for the assessment of learning outcomes. The Council is also charged with developing a university-wide incentive program that will encourage interested faculty to offer eLearning courses and programs. Council recommendations are to be submitted to COAD and the IT Portfolio Board for review, then to the President and Provost for approval.
Specific expectations for the eLAC are focused in the following seven areas:
Vision and Purpose: Why eLearning at Miami University? For Whom? By Whom? What programs/courses?
Curriculum and Instruction: Oversight of the curriculum, coherence of curriculum, appraisal of courses, evaluation of instruction, delivery and platform choice, etc.
Faculty Support and Satisfaction: Faculty development, training, on-going support, and technical support.
Student Satisfaction and Academic Services: Information and resources provided to students such as orientation, self-assessment, advisement, website, etc.; timely and accessible, services and information, library resources, and technical support.
Sustainability and Growth: Systemic approach integrating student, academic, and faculty services; strategic consideration of human, technical, and funding resources related to growth; five-year strategic plan for eLearning including business plan, prioritization of programs, and courses for eLearning.
Evaluation and Assessment: How will learning be measured? How will experiences that lead to the learning outcomes be assessed? How will changes be made based on the assessments? How will eLearning program outcomes compare to onsite programs?
Regulatory Compliance: Compliance with relevant regulatory dimensions of eLearning, (e.g., ADA, HLC, and OBOR requirements).
For more information, contact the eLearning Advisory Council at eLAC@miamioh.edu.