Sustainability: Co-Curricular Engagement
Kill the Cup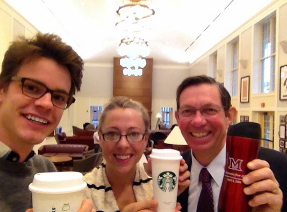 Miami University won the Kill the Cup University Challenge—Waste Reduction division. Miamians reduced disposable cup waste by 5.5% at participating locations during the inaugural 4-week competition. President Hodge and student organizers kick off the competition in the Armstrong Student Center.
Student Organizations
Among the hundreds of student organizations at Miami, many are specifically devoted to sustainability, while others support sustainability projects through programming, fundraising and volunteer help.
The Sustainability Committee includes a member of the student organization Green Oxford and the Associated Student Government's Sustainability chair.
Student organizations primarily devoted to sustainability include:
Residence Life
Every Residence Hall selects an Eco Rep to help promote sustainability practices through educational programming, contests and trash audits.
Undergraduate Research and Engagement
More than 2,000 Miami students work with faculty mentors on independent research each year, supported by Miami's new Office of Research for Undergraduates. Sustainability-related projects range from climate change research in high altitude lakes in the Canadian Rockies to the NSF Long Term Research in Environmental Biology site in Acton Lake locally, to Miami's Ecology Research Center to working with local school children on a sustainable art project for the annual Oxford Kinetics Festival.
Other examples:
A team of Miami engineering students was one of 40 university teams nationwide that were each awarded a $15,000 grant in the U.S. EPA's People, Prosperity and the Planet (P3) competition for their project, "Using Sand and Moringa Oleifera Protein for a Sustainable Water Filter."
Duke Energy/Center for Business Excellence (CBE) Inter-University Case Competition - focuses on interdisciplinary energy solutions
CBE Beta Alpha Psi Sustainability Reporting Initiative - CBE Student Leaders work with members of the Beta Alpha Psi accounting honorary to help gather data for sustainability reporting
Beta Alpha Psi students use their record-keeping skills to coordinate data-gathering for STARS reporting