Sustainability Operational Indicators
Carbon Footprint: 2018 
Miami University's most recent GHG emissions inventory was calculated using FY2018 data to calculate Scope 1, Scope 2, and Scope 3 emissions.
The 2018 Carbon Footprint for Oxford campus = 108,724 MTCO2. 
Relative to FY 2008, carbon dioxide emissions from coal, natural gas, and purchased electricity (including transmission and distribution losses):
Were reduced by 44%

Energy consumption was reduced by 36%, on a square foot basis.

Total carbon emissions were reduced by 30%.
The inventory was completed by Miami's director of sustainability, Adam Sizemore, and the sustainability coordinator in February 2019. It was reviewed by Jeff Johnson, director of environmental health and safety at Miami. They used the Sustainability Indicator Management and Analysis (SIMAP) platform.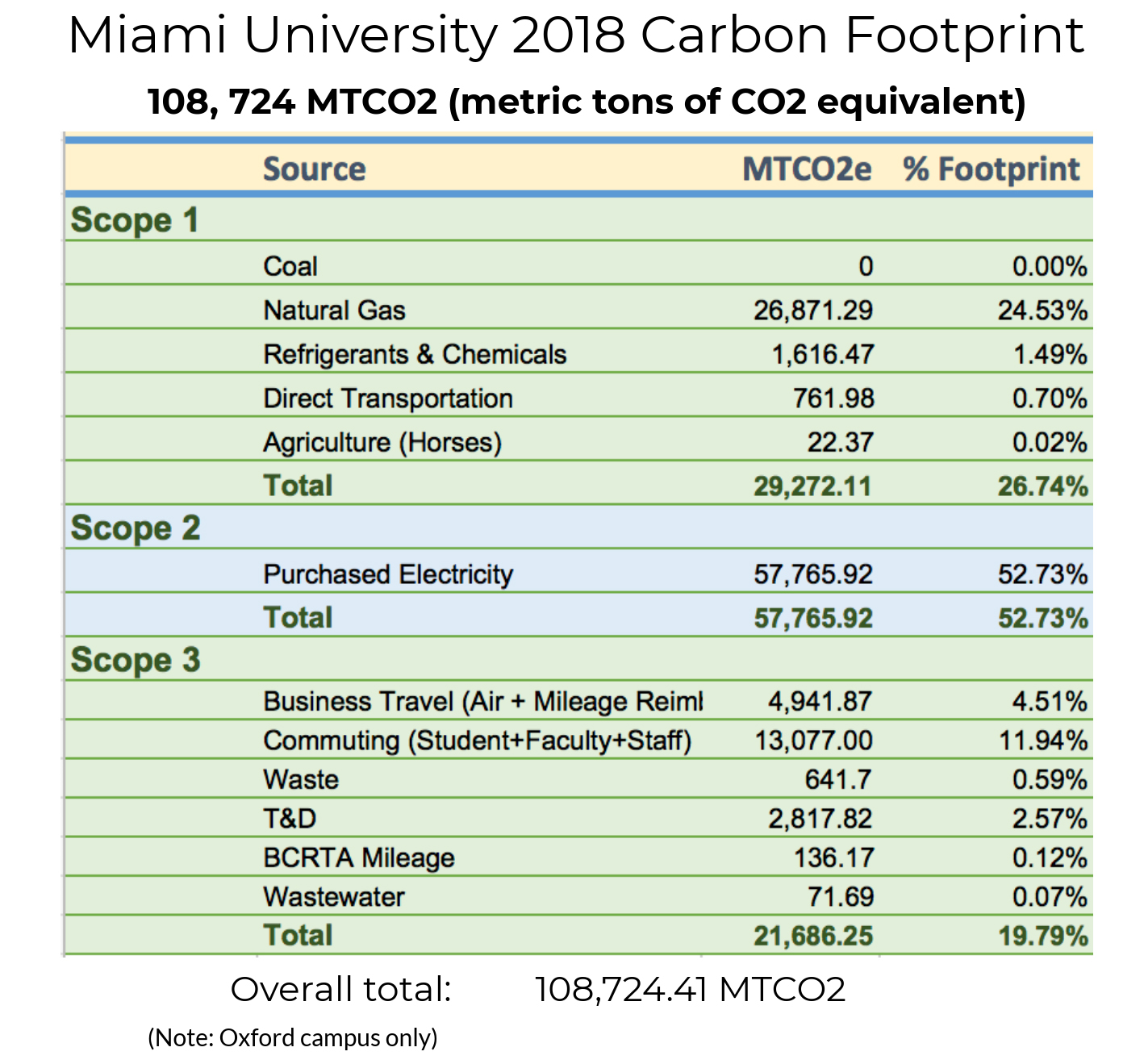 Information below is from 2015:  
Transportation Study/Commuter Survey
As part of the carbon footprint PSP, IES students conducted a transportation survey of faculty, staff and students in 2016. It showed a 7% increase in bus ridership for commuter trips to campus. Walking to and on campus also increased by about 10% during the 5-year period.
Lean (and Green)
Lean is a process to improve quality, responsiveness and productivity, and to reduce costs by analyzing work and finding ways to improve it. Miami has reduced or avoided costs and enhanced revenues for a 5-year financial gain of $28.3 million via Lean processes—and one-third of the projects were identified as "Green," one of the university's break-through Lean objectives.
Ten-Year Energy Reduction Milestone Keeps Pace with Growth
Ohio HB-251 called for a 20% reduction in energy use per square foot (across all 3 campuses) relative to 2004. Miami's sustained and focused effort exceeded the requirement, demonstrating a nearly 22% non-weather adjusted reduction. While square footage increases yield less of an environmental benefit, our total energy consumption in 2014 was no higher than it was 10 years ago, even though square footage increased 27% during the period.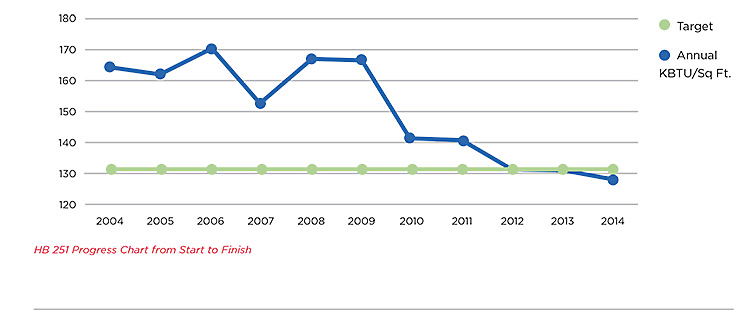 Single-Stream Recycling and Composting
Single-stream recycling was fully implemented during the reporting period. Placement of paired trash and recycling cans across campus made recycling as easy as throwing away trash. Collection of compostable materials takes place at the Culinary Support Center (CSC) and 7 dining operations. The solid waste diversion rate is currently 25%. This figure tracks "household" waste (disposed of by campus users) and compostable materials. Many other materials are recycled as part of campus operations.
Sustainable Features on Western Campus
New LEED-Buildings Opened in Fall 2014
The Geothermal Heat Exchange Facility (GHX) uses 315 wells, 600 feet deep, to provide efficient heating and cooling to the following (Silver-pending) Leadership in Energy & Environmental Design (LEED) buildings:
Hillcrest Residence Hall
Beechwood Residence Hall
Stonebridge Residence Hall
Western Dining Commons
The Steam Plant burns coal or natural gas. Starting in 2016, annual coal use will be limited to meet federal regulations. Four hundred (400) future geothermal wells will ultimately decouple most of Western Campus from this plant, per Miami's master-planned commitment to stop burning coal by 2025.
Grounds: Restoration and Use of Natural Hydrology
Rainwater from the surrounding buildings and grounds is slowed, cooled, and cleaned using best management practices as it moves southward and downhill across Western Campus.
Upper pond, designed to provide the heat exchange equivalent of 30 wells, collects rainwater and up to 5000 gallons per day of air conditioning condensate. The fountain provides aeration.
Lower pond, a stormwater detention basin, accepts water from the Upper Pond and collects runoff from a 25-acre basin that includes Bishop Woods and Cook Field. It also irrigates half of Cook Field.
Perennial gardens of native plantings, once established, require minimal watering and weed control.
Pools in the creek provide places for sediment to settle out. Vegetation beside the creek provides a natural buffer that shades and cools the water, provides homes for wildlife, and helps keep excess nitrogen (typical of runoff from chemically fertilized grounds) from entering the watershed.
Stepped rain gardens, with water-tolerant vegetation, prevent stream overload and invite visitors to step off the pavement for a closer look.
Patterson pond displays a level that rises and drops as it detains rainwater that fell around Maplestreet Station and Etheridge Residence Halls (both LEED Silver).
Duck pond is the final management feature on campus before water continues downhill to Collins Creek, moving toward the Gulf of Mexico.