PSAAA Award Recipients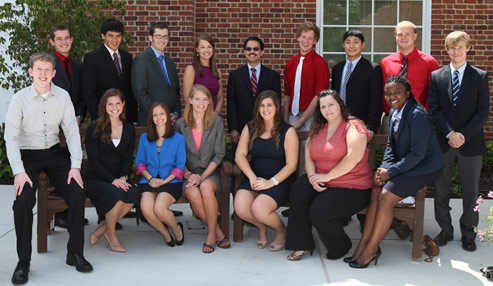 Seated, front row, left-right: Jeffrey Segrave, Karen Otzen, Erica Fox, Erin Hingsbergen, Stephanie Babiarz, Teresa "Sky" Sloderbeck, Choolwe Mandona
Standing, back row, left-right: William Price, James Morton, Christopher Walsh, Catherine Scott, Provost Bobby Gempesaw, Ryan Martini, David Wang, Joshua Kaine, Charles Ebersole
Fifteen seniors received the Provost's Student Academic Achievement Award (PSAAA) for their outstanding contributions to Miami University's intellectual environment. The following recipients were recognized during a special ceremony August 17, 2012.
Stephanie Barbiarz (Downers Grove, Ill.)
Major(s): Kinesiology
She has conducted research with mentor Rose Marie Ward, associate professor of kinesiology and health, on calorie restriction and exercise output in college students participating in extreme drinking, which she presented at the National Conference on Undergraduate Research. She completed three internships in physical therapy, and this past summer, participated in a physical therapy internship in Chang Mai, Thailand. She studied abroad in Australia in Summer 2010 and in Miami's Luxembourg program in Spring 2011.
Charles Ebersole (Beavercreek, Ohio)
Major(s): Psychology
Minors(s): Political Science
He has conducted research with Carrie Hall, lecturer in psychology, for the past two years in the area of social psychology, focusing on such topics as behavioral mimicry, social ostracism, and embodied cognition. He has presented his research at the Midwest Psychology Association's annual conference. Last semester, he joined the lab of Heather Claypool, associate professor of psychology, extending his research into new areas. He was a distinguished undergraduate teaching fellow for a course in psychological research methods.
Erica Fox (New Providence, N.J.)
Major(s): Anthropology, Environmental Principles and Practice
Minor(s): Global Perspectives on Sustainability.
She completed an internship at the Tibetan Government in Exile Environment and Development desk while participating in Miami's Dharamsala program and living with a Tibetan host family. While there, she also conducted anthropological research in Northern India pertaining to socioeconomic status and its connection to running water in households. She is the secretary of "Green Oxford."
Erin Hingsbergen (Hamilton, Ohio)
Major(s): Middle Childhood Education
She has been involved with extension projects through her coursework in education, including sharing a critique of urban education with other pre-service teachers. She is the co-founder of "Students for Life" on Miami's Hamilton campus.
Joshua Kaine (Cincinnati, Ohio)
Major(s): Biochemistry, Biological Physics
Minor(s): Computer Science
He has conducted undergraduate research since his first year at Miami with mentor David Tierny, associate professor of chemistry and biochemistry. His work in the field of inorganic chemistry has ranged from synthesis to spectroscopic characterization and computational chemistry. His research has culminated in presentations at a national conference and two regional conferences, as well as a journal publication. He is a member of Miami's Mallory-Wilson Center for Healthcare Education Student Advisory Board.
Choolwe Mandona (Lusaka, Zambia)
Major(s): Chemical Engineering
She has conducted research with mentor Marvin Thrash, faculty in chemical and paper engineering, collecting and modeling isotherm data for proteins on cellulose adsorbents. She was selected to participate in MIT's Summer Research Internship program in Summer 2012. She is also a residence assistant, member of "Engineers Without Borders," and secretary of the International Students Organization. She coordinated the Talawanda Middle School Encore (After School) program in Spring 2012, working with 8th-grade girls to conduct science and engineering projects.
Ryan Martini (Cincinnati, Ohio)
Major(s): Mathematics Education
Minor(s): American Literature, Gerontology
He twice completed an independent study project through the Opening Minds Through Art program with Elizabeth "Like" Lokon, research associate, Scripps Gerontology Center, creating art lessons for older adults with dementia. He was a 2012 undergraduate summer scholar, working on the project, "Integrating Older Adult Family Life Education into High School Curricula." Last year, he was editor of Miami's new undergraduate publication, Mi Cup of Tea.
James Morton (Oxford, Ohio)
Major(s): Computer Science, Electrical Engineering, Engineering Physics, Mathematics and Statistics
Minor(s): Chinese
He has conducted research since his first year with mentors John Karro, associate professor of computer science and software engineering, and Chun Liang, associate professor of botany, to develop bioinformatics software packages to help understand biological mechanisms linked with gene regulation and cancer. In Summer 2012, he was one of 25 selected (out of 800) to participate in an NSF-funded Research Experience for Undergraduates (REU) at Cold Spring Harbor Laboratories to develop computational tools in order to study biological phenomena related to disease susceptibility and functional variation.
Karen Otzen (Waterford, Mich.)
Major(s): Business Economics
Minor(s): International Business
She has participated in the Farmer School of Business' China Summer Program and Miami's Luxembourg program. She recently finished an internship with dunnhumbyUSA in Cincinnati. She has worked through Miami's Buck Rogers Business Leadership Program and the Center for Business Excellence to establish a mentoring program that matches business professionals with Miami students.
William (Billy) Price (Cincinnati, Ohio)
Major(s): Supply Chain and Operations Management
Minor(s): Political Science
He is a student director of the Buck Rogers Business Leadership Program and is co-president of Spectrum, Miami's LBGTQ organization. He has presented papers at the American Culture Association's national conferences for the past two years, including his research on "The Rise of Westboro in Pop Culture: Sociological and Political Effects on the Movement for Equality." He was integral in Spectrum's response to Westboro Baptist Church's picket at Miami last fall. He has completed internships at Ohio National Financial Services, Limited Brand, and Target.
Catherine Scott (Hamilton, Ohio)
Major(s): Graphic Design
Minor(s): Interactive Media Studies, Marketing
She has done graphic design work for Miami's Crucible Magazine, a Miami University Interdisciplinary Technology Development Challenge team and the Pi Sigma Epsilon business fraternity. She has also worked with the Wilks Scholar Leader program as the organization's graphic designer, doing a variety of print work, including pieces for its national conference.
Jeffrey Segrave (Dublin, Ohio)
Major(s): Marketing
Minor(s): Communications, Economics
He attended the Chinese University of Hong Kong in Spring 2011. He was first author and presenter of a paper at the Americas Conference on Information Systems which examined "Online Social Networks, an Online Brand Community Framework." He also serves as vice president of the Honors and Scholars Advisory Board.
Teresa "Sky" Sloderbeck (Hamilton, Ohio)
Major(s): English/Creative Writing, English/Literature
Minor(s): Women's Studies
She completed an internship working under the executive editor of the Horror line at Samhain Publishing in Summer 2012. She also completed a 67-page creative writing/research paper project based on Beowulf that attempted to present new scholarship regarding a potential connection between the Old Testament and the dragon episode. She has worked with the Hamilton Harrier magazine and has received university awards for her creative writing and research papers.
Christopher Walsh (Avon Lake, Ohio)
Major(s): Music Education
He has conducted research and interviews as a 2012 undergraduate summer scholar on the musical compositions and choral culture of Latvia during and after the Soviet occupation. He is conductor of the student a capella group the Cheesies, who recently released their first CD. He is also founder and conductor of the new student vocal ensemble, Chapel Voices.
David Wang (Cheyenne, Wyo.)
Major(s): Accounting, Finance
Minors(s): Chinese, Mathematics
He has completed internships with The Royal Bank of Scotland (Sales & Trading Division, Stamford, Conn.) and with J.P. Morgan in New York City. In 2010, he was an undergraduate summer scholar with mentor Steve Wyatt, professor of finance, researching yield curve factor models. He is the managing director for Miami's investment banking club and is vice president for professional activities for the Delta Sigma Pi business fraternity.