Honors Program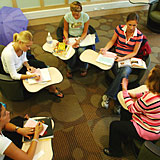 Students looking for a unique educational experience will find exciting challenges and opportunities at Miami University.
University Honors
Miami's Honors Program provides an environment that enhances intellectual and personal growth. It gives students the ability to customize their educational experience to their individual goals; meet their general education requirements through both in-class and out-of-class experiences; participate in small, interactive seminar classes; have close interaction and receive personal guidance from exemplary faculty and staff; live in an optional honors residence hall; and receive support for undergraduate research and study abroad.
Divisional and Departmental Honors
Honors programs are available in many divisions and departments on campus. For example, the Farmer School of Business has a special Business Honors Program for exceptional students majoring in a degree in business. Additionally, many departments offer enriched opportunities for students in their major. For information on departmental honors programs, consult your home department upon entering Miami University.