Junior Scholars Program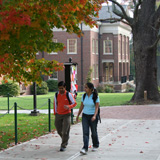 The Junior Scholars Program provides a total college experience for academically-talented, rising high school seniors during a six-week, summer term in which they do the following:
Program Details
This year's Junior Scholars program will take place June 30–August 9, 2013.

Eligibility
To be eligible for the Junior Scholars program, you must meet the following criteria:
Completion of your junior year of high school by June 30, 2013, and not graduate before January 2014.
Minimum high school g.p.a. of 3.5 (in most cases) or rank in the top 10 percent of your class.
Recommendation by a high school teacher, school counselor, or principal.
Certification of English language skills (e.g., TOEFL or letter from your English teacher) if English is not your native language.
Fees
Costs for room, board, and instructional fees vary, depending on number of credit hours taken and Ohio residency status. Please see the detailed program fees for more information.
Application
To apply for the Junior Scholars program, please submit the following:
Junior Scholars Application and Recommendation form (PDF 223 KB)
Official high school transcript
Official test scores (ACT or SAT for domestic students; TOEFL for international students)
If English is not your native language, then please submit your TOEFL scores or a letter from your English teacher certifying your English language skills. Please note that for non-native English speakers, either a college aptitude test score or certification of English language skills is required - not both.
Applicants will be notified of their admission status beginning March 15, 2013. If you are accepted, registration materials and housing forms will be mailed separately. Please note that course availability may vary based upon the date by which participants confirm their enrollment in the program.
Application Deadlines:
April 1, 2013: International students
May 15, 2013 (Extended Deadline): Domestic students
All materials must be sent to the following address:
Junior Scholars Program
Miami University
301 South Campus Avenue (MSC 1003)
Oxford, Ohio 45056
Contact Us
If you have questions about the Junior Scholars program, please contact us via email or phone at 513-529-2531.