Partnerships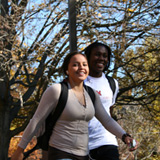 The following not-for-profit programs promote higher education opportunities for underserved college-bound students.
Ventures Scholars Program
This program serves high achieving underrepresented students and first-generation college-bound students interested in pursuing math- and science-based careers.
Center for Student Opportunity
With a focus on first-generation and other historically underserved college-bound students, the Center serves the College Bound Coalition—an alliance of universities, colleges, college access programs, and counselors working to promote, improve, and expand campus programs serving first-generation, low-income, and minority students.