Special Programs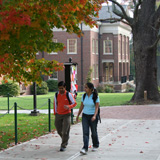 Prospective Students
Bridges is designed for high-achieving underrepresented students as well as students who have an appreciation for diversity from across the nation who are interested in learning more about the educational and social opportunities at Miami. This all-expense paid overnight program is an annual fall event. For more information, contact the Office of Admission at 513-529-7576 or see Bridges.
Current Students
MADE@Miami provides first-generation, international, and multicultural freshmen with a "jump" start to the school year. Moving in a day early, students begin establishing relationships with peers, faculty, and staff as they get familiar with campus and available resources. Participants enjoy a variety of planned activities, including a picnic, discussions with current students and staff, and an informal introduction to faculty. Contact the Office of Diversity Affairs at 513-529-6504.
Get Connected Program helps students from underrepresented populations make the academic and social transition from high school to college. First-year students are matched with faculty, staff, and peer mentors for academic and personal support. Contact the Contact the Office of Diversity Affairs at 513-529-6504.
Mosaic: Individuality and Diversity is a themed learning community that first-year students can choose. In this program, first-year students live in the same residence hall and meet with faculty members weekly in small-group settings to discuss topics such as race, religion, class, and sexual orientation. Contact Residence Life and New Student Programs at 513-529-4000.
Student Achievement in Research and Scholarship (STARS) is a program that encourages students of underrepresented ethnicities to become future faculty members. With funds provided by the Ohio Board of Regents, participants work on a research project with a faculty or staff mentor. Contact Valerie Robinson at 513-529-3734.