Parents of Prospective Students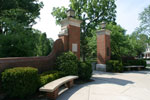 High Graduation Rates
Our graduation rates are among the highest nationally, in the top 10 among public universities (excluding military academies), and first in Ohio.
Hello! We want to welcome you to Miami University.  This website is designed especially for parents of prospective students! We recognize the importance of making an informed college choice and want to help you in any way that we can.
In addition to finding your answers here, we encourage you to visit our beautiful campus in Oxford, Ohio. We hope you'll agree that Miami deserves its reputation as one of the most outstanding public undergraduate institutions in the country.
--The Office of Admission
Get Acquainted
Our First-Year Students
Check out the profile of first-year students accepted for Fall 2012.
Application Deadlines
Check out our application and confirmation deadlines.
Admission Review
See the list of variables considered in Miami's selective application review process.
Multicultural Opportunities
Learn about organizations, events, and programs for students of color at Miami.
General Bulletin
View the General Bulletin to find information on academic policies, program requirements, and course descriptions.
Additional Resources
Parents Office
The Parents Office at Miami provides a wealth of helpful information for parents of prospective students as well as those of current students. From planning calendars and directories to travel information and official reports, you will find all the resources you need for active participation in your student's college experience!
KnowHow2GO
College doesn't just happen; you have to work to make it a reality. This site provides a wealth of information on the specific steps you need to take, with valuable tools and resources to help you along the way.