Trevon Gaston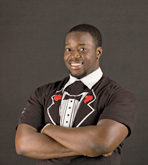 Trevon Gaston
Bachelor of Arts in Architecture, 2013
Architecture/French
What's the best thing about Miami?
I love being presented with opportunities to join leadership organizations like Gentlemen of Distinguished Character that allow me to become a better individual so I can help less fortunate people with my full potential.
What are your goals after you graduate?
I plan on going to graduate school to earn my master's degree in architecture.
How has Miami helped you afford college?
Earning an Access Scholarship means a lot to me because it gives me the chance to be all that I can be. I'm very grateful for having this opportunity.