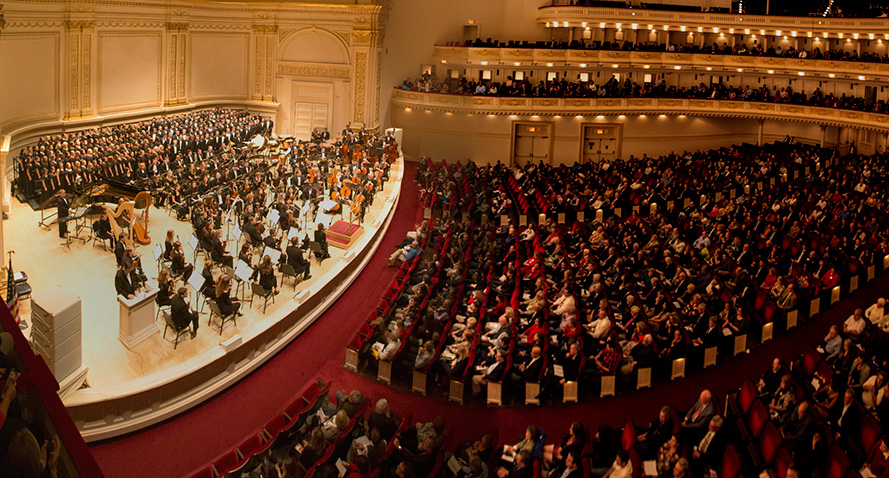 From the Chamber Singers' joyous opening of La traviata's "Brindisi" to the combined choirs and orchestra's majestic Alma Mater finale, Miami's music resonated throughout Carnegie Hall Sunday afternoon, Oct. 7.
More than 1,500 parents, alumni, friends and fans filled Carnegie's main Isaac Stern Auditorium to see seven music ensembles perform selections by Verdi, Bernstein, Holst and many others during the two-and-a-half-hour celebration in Manhattan.
President David Hodge served as master of ceremonies, introducing each of the groups and bringing them onto a stage that has been graced by such renowned artists as Tchaikovsky, Rachmaninoff, Duke Ellington, the Beatles and Pavarotti since its opening night in 1891.
Awesome acoustics
Standing on risers with 99 other members of Collegiate Chorale, waiting for conductor Jeremy Jones to walk onto the Perelman Stage, marketing major Lizzie Keister looked around in astonishment at the cream and gold-gilded, five-level, 2,804-seat auditorium, known worldwide for its fabulous acoustics.
"I couldn't believe it. I kept saying to the guy I was next to, 'Oh my gosh, oh my gosh, oh my gosh.' It was so cool," said Keister, a junior from Hillsboro. "For our first song, we sang 'Rytmus.' There's a part where we all sing two notes and we cut out very quickly. When we did that, there was this echo that went around the stage and the hall, and I was like, 'Is that us? Is that our sound?' I was in awe."
Looking beyond the proverbial punch line "practice, practice, practice," how do seven music ensembles with a total of 417 students from a university in southwest Ohio get to Carnegie? By bus. Eight buses to be exact with the ensembles' largest and more sensitive instruments following behind in a temperature-controlled semi. String basses had their own seats on the bus. Fourteen hours after leaving Millett at 8 a.m. Thursday, the musical caravan finally arrived at its New Jersey hotel.
No small performance
Stephen Lytle, director of athletic bands at Miami, took on the role of point person for figuring out travel details, hotel accommodations and the entire timeline for the weekend in New York. That was no small performance in itself.
But thoughts of logistics faded away as audience members stood on their feet and offered lengthy and heartfelt applause and cheers after the finale to the music department's Chamber Singers and conductor William Bausano, the Jazz Ensemble and conductor Jeremy Long, Collegiate Chorale and conductor Jeremy Jones, the Wind Ensemble and conductor Gary Speck, the Symphony Orchestra and conductor Ricardo Averbach, Choraliers, also conducted by Bausano, and Men's Glee Club, conducted by Jones. Stephen Lytle conducted the Glee Club, Choraliers and orchestra for the Alma Mater, specially arranged for Miami's Carnegie debut by James Lentini, dean of the School of Creative Arts.
As for the dean, he's still processing how much work this event took and how well it went.
"You see all the people that it took to put it together and all the collaboration, not just among the musicians, but among so many facets of Miami University. This was valuable to all of us, and the collaboration part was impressive to me."
Memorable afternoon
Most impressive to the dean were the performances, and the fact that nearly 65 percent of the performers are non-music majors.
"You could tell the students were well prepared to play this concert. They played beautifully. Of course, it sounded fantastic in the world's best acoustical facility," he said. "For me, the most satisfying part was we could show the high level of our student ensembles to such a large and enthusiastic crowd in a great hall."
Keister, an alto who is also president of Collegiate Chorale, is among 417 students who will never forget one October Sunday afternoon in legendary Carnegie Hall.
"In our third piece, 'Earth Song,' the beginning lyrics are Sing ... Be ... Live, and we hold them out for a couple bars apiece. In that moment it was like, Oh man, this is us. This is us as an organization. Chorale is very family centered. I have a tight bond with all these people, and it was just so special."
-- Donna Boen, editor, Miamian alumni magazine