Miami's Institute for Food: Fostering healthy food, healthy eating, healthy communities, and a healthy planet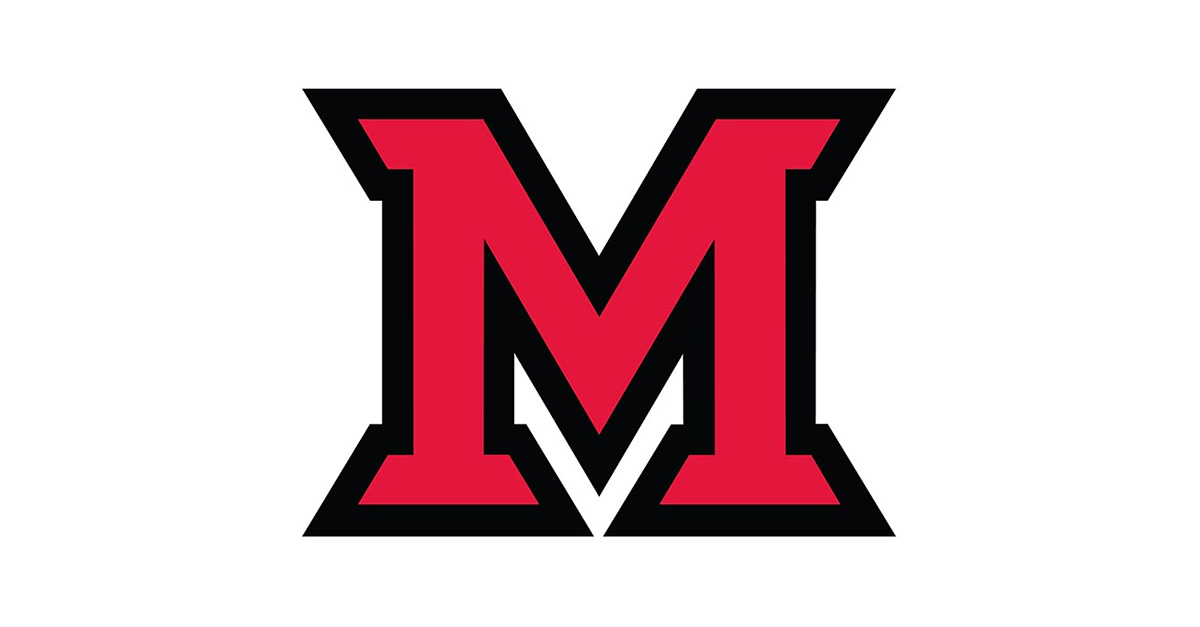 Feb 25, 2019
Announcing the 2019 CSA

Friday, February 22 was National CSA Day—a celebration of community supported agriculture, a direct farm-to-consumer market model where people pay for a share of a farmer's harvest in advance. Each week during the harvest season subscribers receive a share of what the farmer grows. [See The Need for Community Support of Local Agriculture.]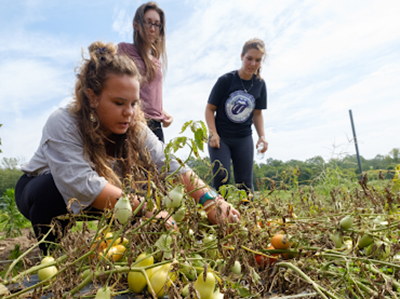 Students harvest fresh tomatoes at the Institute for Food farm.
The model is designed to build relationships between local farmers and consumers while mitigating the risks associated with small-scale, sustainable farming. Starting in 2015, the last Friday in February has marked the official launch of the coming CSA season at Miami's Institute for Food.
"National CSA Day has become a day to acknowledge the importance of fresh, sustainably grown food and the work of local farmers," said coordinator Peggy Shaffer, who is also professor of American studies, history, and Institute for the Environment & Sustainability.
According to Shaffer, when you join a CSA, you are making a commitment to a plant-rich diet, which has wide-ranging effects:
The seasonal fruits and vegetables you receive each week are higher in nutrition. Studies have shown that the nutritional value of vegetables begins to decrease as soon as they are harvested. CSAs dramatically shorten the time and distance between field and fork.
You are embracing a healthier diet. Increased consumption of fruits and vegetables have been proven to lower both blood sugar levels and bad cholesterol. [See Dietary Guidelines for Americans.]
You are helping the environment by reducing your environmental footprint. CSAs shorten the food supply chain and decrease food miles; plant-rich diets help to conserve water and reduce greenhouse gas emissions. 
Participation in the Institute for Food CSA has the added benefit of providing Miami students with the opportunity to learn about sustainable food systems on a working farm. Each season, the Institute for Food farm located north of Miami's Oxford campus serves as a laboratory for a course in food systems and food studies. In addition, the farm hosts student interns, volunteers, and a range of student research projects.
All eyes on healthy vegetables!
"Our farm is a mid-sized, intensive vegetable farm," said Shaffer. "This season we will have 4-5 acres in production. All fruits and vegetables are grown using sustainable and organic methods that adhere to USDA food safety guidelines."
Shaffer explained that she and her staff are committed to ecological practices to grow nutritious food.
"We support biodiversity; we use integrated pest management, organic compost, and natural plant-based products to help build and maintain healthy soils and healthy plants," she said. "Artificial chemicals and synthetic fertilizers are not used. The farm allows students to get their hands dirty and gain working experience in basic environmental science, while exploring the connections between food and nutrition, along with the challenges of the agricultural marketplace. Our CSA supports these learning experiences."
Spring 2019 marks the start of the Institute for Food's third CSA season. The goal is to continue to offer a rich variety of fresh, sustainably grown, seasonal vegetables to the Miami community, including students, faculty, staff, residents, and anyone else who might be interested.
"We begin the season with a range of leafy greens and spring vegetables," Shaffer said. "As the days get warmer and longer, CSA shares overflow with a bounty of summer vegetables from tomatoes and peppers to eggplant and chard. Once fall arrives, the weekly shares shift towards cold weather greens like kale and spinach, along with potatoes, winter squash, and broccoli. You can expect all the familiar vegetables as well as a few novel items like fennel and kohlrabi."
This year, the number of CSA subscriptions have been expanded from 100 to 140. After a successful pilot last season, the Institute for Food is also offering a student CSA share, which is designed to accommodate student needs.
To make it easier to subscribe and pay, a CSA Subscription link on the Institute for Food website allows subscribers to select what size share they want, along with the summer, fall, or combined summer-fall options, and pay by credit card or e-check. (There is a 3% service charge fee for payment by credit card; no charge for e-checks.)
The 2019 Summer CSA runs for 14 weeks from May 23 to August 22. The Fall CSA runs for 14 weeks from August 29 to December 5. If you sign up for a combined summer-fall subscription, you get a price discount.

Three share sizes are offered.
whole share for a family of four is 6-8 items with 3-4 self-selected items.
Cost: $400 (14 weeks, summer or fall) or $720 (combined summer and fall)
half share for two adults includes 3-4 items with 2-3 self-selected items.
Cost: $250 (14 weeks, summer or fall) or $450 (combined summer and fall)
student share for one adult includes 4-5 self-selected items per week.
Cost: $140 (14 weeks, summer or fall) or $250 (combined summer and fall)
Subscribers are accepted on a first-come, first-served basis.

The weekly CSA pick up day is on Thursday afternoons at 3:30 to 5:30 pm in the Cook Field parking lot at the Cook Field pavilion.
For questions or more information, please contact Peggy Shaffer (ifmiami@MiamiOH.edu or 513-529-7527).