What We Grow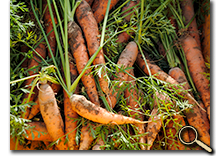 The Institute for Food Farm grows a wide variety of fresh produce. Listed below are some of the vegetables and fruits harvested during the 2016 growing season.

Beets
We grew 2 types of beets on the farm:
We harvested about 1,200 pounds, These beet varieties typically are most abundantly available during late August until mid-September.
Broccoli
There were 2 types of broccoli grown on the farm:
Combined, the farm yielded 860 pounds of broccoli.
Carrots
The 2 types of carrot grown on the farm were:
We harvested over 1,200 pounds of carrots.
Kale
There were 3 varieties of kale produced at the farm:
The yield was close to 1,000 pounds.
Lettuce
We grew quite a few varieties of lettuce at the Institute for Food Farm, including:
Coastal Star (romaine)
Adriana (butterhead)
Red Cross (butterhead)
Salanova Foundation
Salanova Premier
Overall, we produced over 800 heads of lettuce.
Peppers
Our farm produced a variety of peppers, including:
Ace
Sweet Chocolate
Krimzon Lee
Most abundant at the height of summer, the Ace and Sweet Chocolate variety totalled about 240 pounds each, while the Krimzon Lee harvest weighed in around 120 pounds.
Tomatoes
We grew numerous varieties of beautiful tomatoes, including
Sun Gold
Black Cherry
Celebrity
Big Beef
These tomatoes thrived in the summer, with the total annual yield exceeding 1,500 pounds.
Winter Squash
We grew a variety of winter squash, including
Metro PMR (butternut squash)
Tuffy (acorn squash)
Each of the 2 types of squash produced around 1,000 pounds.