Scripps eNews
Join thousands of others who get the latest updates from us. Sign up to get our e-newsletter and you can stay up on the latest Scripps publications, news, and events. 
---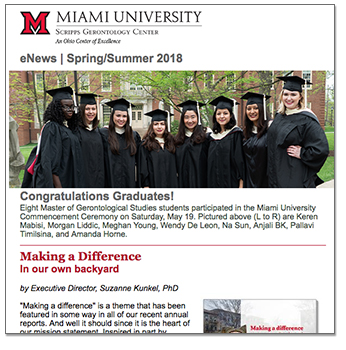 Spring/Summer 2018 issue highlights
- Congratulations graduates
- 2017 Annual Report – Making a difference in our own backyard
- Opening Minds through Art 10th anniversary
- SEA-Certificate - An opportunity to change the world
- Preferences for Activity and Leisure (PAL) Cards are one of 16 Ohio Nursing Home Quality Improvement Projects
- Public Radio taps Scripps Gerontology and The Knolls for expertise on aging
- 2018 Colonial Services Long-Term Care Research Award recipient
- Alumni Spotlight: Quanhong "Cho" Qiu, 2018 Cottrell Distinguished Alumni Award winner
- Do you want to know more about our work and mission?
---
- Helping Ohio chart a course for long-term care
- Miami students conducting age-friendly city research study
- Resources based on Scripps Gerontology Center research
   - What Matters Most: A Guide for My Support and Care
   - Recorded webinars
   - Recent research reports and briefs
- Tenth-year expansion of Opening Minds through Art (OMA) 
- P.K. Whelpton's legacy inspires tomorrow's experts in demography and aging 
- Unleash your entrepreneurial potential
- The Gerontology Alumni Advisory Group is planning two alumni gatherings in March
---
- We welcome 11 New Miami gerontology graduate students
- Suzanne Kunkel named University Distinguished Professor
- The 2017 P.K. Whelpton Memorial Lecture addresses long-term care in China
- Miami University researchers lead evaluation of AgeWell program in Cleveland
- Aging and Disability Business Institute Evaluation
- MGS students gain hands-on experience during summer practicum
- Opening Minds through Art News
- Social Entrepreneurship & Aging Online Graduate Certificate Program
- Upcoming Alumni Gathering
---
- Perspectives on teamwork
- Research on older workers
- The journey to OMA
- Research apprenticeship model
- By the numbers / Partnerships
- Service / Honors and Awards
- Donors
- Reconnecting with Alumni
- Academic News
---
- A visit from Dr. Gregory and Dr. Renate Crawford
- Recent publications by senior research scholar, Shahla Mehdizadeh 
- Heather Menne is 2017 Cottrell Distinguished Alumni Award recipient 
- Alumni making connections – face-to-face and online
- Opening Minds through Art updates
   - Miami University's OMA program receives national Alzheimer's legacy award
   - A children's book featuring Opening Minds through Art (OMA) artwork 
   - Registration open for 2017 OMA facilitator training
- Upcoming webinar | Achieving Caregiver Respite and Support
---
- We welcome 14 new Miami University gerontology graduate students
- Grant to expand Miami's Opening Minds through Art program
- $1.4 million grant awarded for research about older learners
- Grant to improve quality of life for Ohio's nursing home residents
- MGS students report on summer experiences
- Our alumni are part of Scripps Gerontology Center's legacy
- Meet the new residents of hallway 370! - Our new research staff
- Stay connected
---
- Making a difference then and now
- Honors and Awards
- Service and Leadership
- Featured Spotlights: Shahla Mehdizadeh, Katherine Abbott, Inaugural NANAS conference
- By the numbers
- Donors and Partners
- Connect
---
- OMA a Quality Improvement Project
- Scholarships for OMA training
- Graduate student job placement rates
- Meet our PhD graduates
- Research finds areas for improved strategies at nursing homes 
---