Dr. Judith de Luce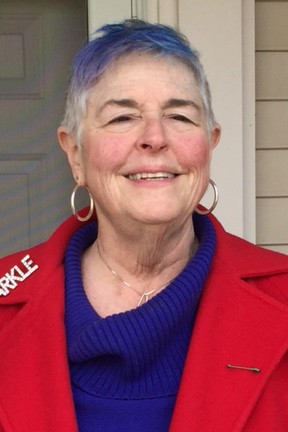 Dr. Judith de Luce
Professor Emeritae
EDUCATION
Ph.D. Classics Univeristy of Wisconsin-Madison 1974


Dissertation:

"Mutatae Formae: Studies in Ovid's Metamorphoses" Director: Herbert M. Howe

MA Latin, University of Wisconsin-Madison 1971

BA Latin, Colby College 1968



SCHOLARLY INTERESTS
Aging in the ancient world

Latin Literature of the Late Republic and early Empire (Cicero, Ovid)

Women's studies

Animal behavior

Ancient law

Race and ethnicity

Dramatic literature in performance

Technology in the classroom
COURSES TAUGHT AT MIAMI UNIVERSITY
Greek
Intermediate level (Euripides, Homer's Iliad)
Latin
Elementary
Intensive elementary
Intermediate (Cicero's speeches, Cicero's letters, Catullus, Pliny's letters, Livy, Ovid's Metamorphoses)
Advanced reading of special authors
Cicero (speeches)
Catullus and Horace
Satire (Lucilius, Horace, Juvenal)
Ovid (Metamorphoses)
Lucretius
Livy
Pliny
Classics
Introduction to Greek literature
Introduction to Latin literature
Introduction to Classical mythology
Introduction to Classical humanities
Greek and Latin epic
Justice and the law in antiquity
Classical influences in the American Republic (team-taught)
Women in antiquity
Age of Augustus;
Old age in antiquity
Race and ethnicity in the ancient world
Art
Greek and Roman sculpture
Greek and Roman painting.
Other
Introduction to Women's Studies

Business ethics (team-taught)

Honors seminar "Talking Animals and Being Human" (study of animal language experiments)

Elderhostel (primate language studies and their implications)

Governor's Institute for Gifted and Talented Students (ages 14-16)

Coordinator and member of instructional staff for institute on oral tradition.
COURSE TAUGHT AT HOFSTRA UNIVERSITY

Feminist Revisions of Classical Mythology, Roman Law.
COURSE TAUGHT AT UNC-ASHEVILLE

RESEARCH
Edited Books
Beyond Preservation: Restoring and Inventing Landscapes

, co-edited, with A. Dwight Baldwin, Jr. and Carl Pletsch, Minneapolis: University of Minnesota Press, 1994.

Old Age in Greek and Latin Literature

, co-edited, with an introduction by Thomas Falkner and Judith de Luce, SUNY press, 1989.

Language in Primates: Perspectives and Implications

, co-edited, with an introductory essay by Judith de Luce and Hugh T. Wilder, New York: Springer-Verlag, 1983.

Edited Journal Issue
Co-editor with Suzanne Bonefas and Susan Bonvallet, "Classics and Technology", special issue of the

CALICO Journal

, volume 18, number 2, January 2001.
Chapters
"Reconsidering the Riddle of the Sphinx in

Oedipus at Colonus

and

I'm Not Rappaport

," in

Qui Miscuit Utile Dulci:Festschrift Essays for Paul Lachlan MacKendrick

, ed. Gareth Schmeling, Bolchazy Carducci, 1998.

"Reading and Re-Reading the Helpful Princess," in

Compromising Traditions

, ed. Judith P. Hallett andThomas Van Nortwick, Routledge, forthcoming.

"In the Beginning: Creation, Restoration, and Turner's Genesis," in

Beyond Preservation: Restoring and Inventing Landscapes

.

"Quod temptabam scribere versus erat: From the Despair of Old Age to the Confidence of the Artist" in

Creativity, Aging and Gender in Literature of the Life Cycle

, ed. Anne Wyatt-Brown and Janice Rossen, University Press of Virginia, 1993.

"O, For A Thousand Tongues to Sing": A Footnote on Metamorphosis, Silence, and Power", in

Woman's Power, Man's Game: Essays on Classical Antiquity in Honor of Joy K. King

, ed. Mary DeForest, Bolchazy-Carducci Publishers, 1993.

"A view from Antiquity: Greece, Rome, and Elders", co-authored with T. Falkner, in

Handbook of Humanities and Aging

, ed. T. Cole, et al, Springer Publishing, 1992.

"Ovid as an Idiographic Study of Creativity in Old Age" in

Old Age in Greek and Latin Literature

.
Articles
"Silence at the Newsstands",

Generations

, volume 25 no. 3, 2001, 39-43

"Roles for Technology in Collaborative Teaching" co-authored with Susan Bonvallet, in

CALICO Journal

, volume 18, number 2, 2001, 295-303

"Figures of Speech and Their Effects: Cicero and the First Catiliarian",

Teacher's Guide AP Latin

, 2001.

"The Blackboard or Virtual Reality: Suggestions and Caveats"

Gerontology and Geriatrics Education

, volume 21, Numbers 1 and 2, 2000, 49-66

Review essay, Odes of Horace, tr. David Ferry,

Archaeology Odyssey

, Fall, 1998, 63-66.

"Aging and Mythology," in

Encyclopedia of Aging

, 1996.

"Stage Performance in the Age of Virtual Reality: Part One", in "How Is It Played? Genre, Performance and Meaning",

Didaskalia

, Supplement 1, May, 1995.

Editor of special collection of essays on Cicero's De Senectute, "Reading Cicero on Aging"; author of introductory essay,"Continuity and Change: Four Disciplinary Perspectives on Reading Cicero's De Senectute" (335-338), author of article,"Theme and Variations in the De Senectute" (361-371)

Journal of Aging Studies

, 7(1994), 333-381.
"Genesis: An Epic Poem: Inventionist Ecology in Iambic Pentameter", Humanist 53(1994) 19-22.

"Ancient Images of Aging: Did Ageism Exist in Greco-Roman Antiquity?", in "Changing Perceptions of Aging and the Aged",

Generations

17 (1993), 41-45.

"Metamorphosis as Mourning: Pathological Grief in Ovid's Metamorphoses,"

Helios

, N.S. 9 (1982) 77-90.

"Teaching Ancient Law,"

Classical World

, 71 (1978), 449-453.

"Cygnus: Diversity and Unity in Ovid's Metamorphoses,"

Classical Outlook

54 (1977), 52-54.

"Ancient Law for Undergraduates,"

American Legal Studies Association Forum

2 (1977) 13-19. Co-author John R. More.
Translation

Horace Ode 4.7,

Classical Outlook

52 (1975), 110-111.
Videotape:
"Packaging Womanhood: the Language of Advertising and Images of Women," for the Marcum Conference Center "Informal Miami" Video Library, 1982.

WEB MATERIALS
Zenobia, co-authored with Darlene Brooks Hedstrom; a web site sponsored by the American Classical League and dedicated to teaching race and ethnicity in the Classics classroom. July, 2000. http://montgomery.cas.muohio.edu/zenobia/
Virtual Sculpture Gallery co-authored with Eric B. Case, June, 1999. http://eekman.com/virtual_gallery/
Baucis and Philemon: Resources for the Study of Ovid's Metamorphoses Book 8.614-724 1998. http://www.muohio.edu/~delucej/baucphil.html
Commentary to Plautus' Aulularia, 1998. http://www.vroma.org/~plautus/aulu.main.html
(NB This is the collaborative product of the VRoma course on Plautus' Aulularia (http://www.muohio.edu/~delucej/Aulularia98.html) which I taught with Susan Bonvallet at The Wellington School in Columbus, OH. Our students worked on joint projects ( including projects completed on the VRoma MOO); instructors and students contributed to this in-line commentary which remains unfinished. Subsequent classes will continue to add to the commentary. I contributed essays on old age and on the family, as well as supervising my students own contributions.
 AWARDS AND RECOGNITION
Outstanding University Woman, 1981
Omicron Delta Kappa , 1982
Nominee, Effective Educator Award, 1986, 1988, 1991
American Philological Association Outstanding College Teacher Award

International Who's Who of Professional and Business Women