States of Conflict: Luongo and Roley Discuss New Collections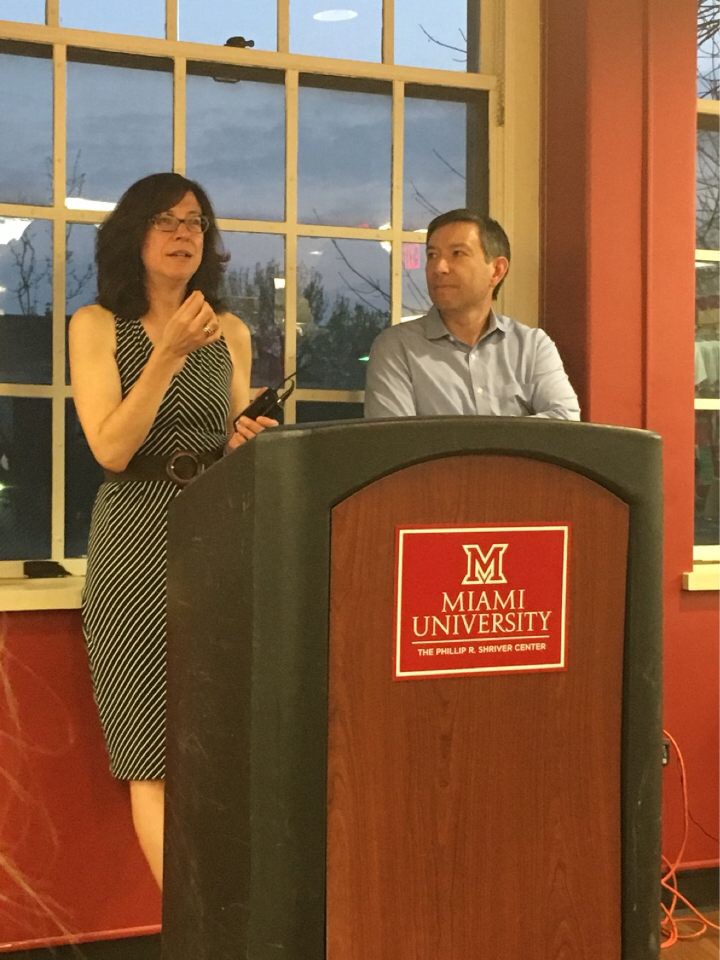 By Whitney Claypool, English Department Ambassador
Associate professors of creative writing Brian Roley and Margaret Luongo shared the stage last week to launch their respective works.
"It is not often that we get to see the artist that lies inside of these instructors," Cathy Wagner, Professor and Director of the Creative Writing Program, said when opening up the reading. "So often they carry many roles – friend, teacher, editor – but the artist is a medium I'm excited to hear from."
Wagner introduced Margaret Luongo, citing her publications in literary giants such as Tin House and The Cincinnati Review, before what is to be her second collection of short stories. History of Art: Stories introduces varying forms of narrative that took the better part of a decade to complete. The arduous process bore fruit, as it produced a theme between stories Luongo noticed and acted upon.
"I wanted to write a themed collection, mostly because I noticed that I was writing a lot of stories about art or the arts in general--music, fine arts, theater," Luongo said. "Writers hear from publishers that it's easier to sell a themed collection, so I thought why not, I'm going in that direction anyway."
The collection explores the interdependence of art and humanity through carefully detailed vignettes and characters whose struggles any reader can relate to. Luongo read one piece, titled "Repatriation," that conveyed the relationship between love and war; it explored the relationships left behind after death and the significance of the narrator's fixation on a bust left behind by her father.
Following Luongo was Brian Roley, a colleague also publishing a collection of short stories. His work The Last Mistress of Jose Rizal: Stories explores the Filipino-American diaspora with a series concerning gaps between generations of family and the contemporary relationships. Roley's new publication is connected to his previous novel, the award-winning book American Son. He completed the short story collection while he was a visiting fellow at the University of Cambridge.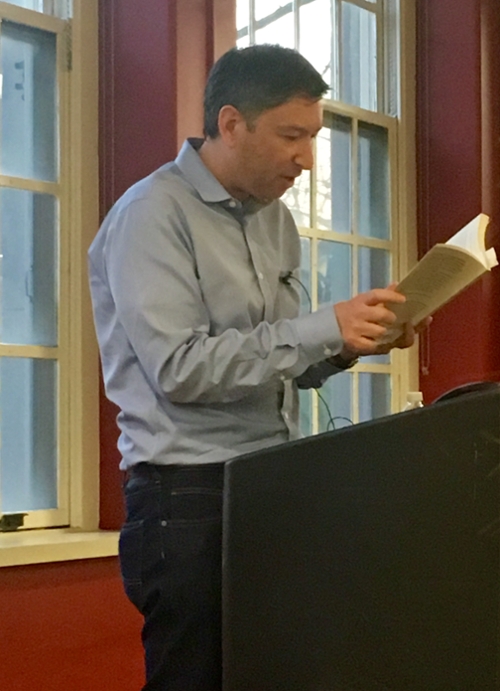 "Anesthesia," one of the shorts read from this new collection, offered a sampling of the issues his characters face. "Filipino veterans from WWII were promised benefits by Roosevelt to fight with the U.S., and then denied it for decades. They didn't get them until they were old men, or dead. This story came out of that," Roley said. "It also stemmed from my observation that a lot of Filipino families will have an unmarried grown child live with and care for their aging parents. But what about the caregiver, once the parents die?"
When asked why he completed the work as a collection of short stories as opposed to a novel, Roley said, "I enjoy using setting as a means of tying characters together. When paired with the length of the stories, everything as a whole has much more complexity." He went on to cite authors such as William Faulkner and Jhumpa Lahiri as influential to his writing process.
The readings complemented each other in that they both explored familial duties and ties via art and culture, expression and setting.