New certificate prepares students to teach English as Second Language
by Riley Steiner, CAS communications intern
This year, for the first time, Miami University's English department is offering a new opportunity for students—the chance to earn a graduate certificate in Teaching English to Speakers of Other Languages, or TESOL.
In order to complete the adult TESOL graduate certificate, students must complete five graduate courses. Several students are currently taking these classes, and the first certificates should be awarded this spring. Students completing the certificate will be prepared to teach English to adults anywhere in the world.
"Our certificate is particularly strong compared to other certificates," said Dr. Vincent Palozzi, director of the Miami Linguistics program. "We emphasize the teaching of ESL [English as a Second Language] academic writing, which is a highly-sought skill in higher education."
The certificate is open to both graduate and undergraduate students. If a student pursues it as an undergrad, twelve of the TESOL credit hours they take count may toward their degree. The certificate may also be beneficial if they decide to apply to graduate school: the classes may transfer for graduate school credit, and the students' ability to teach ESL may give them an extra advantage in situations where those skills are needed.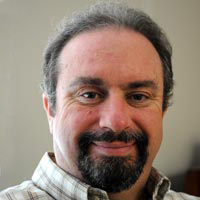 Senior Paul Weiner is completing the certificate and aspires to teach English both in America and abroad.Linguistics Director Vincent Palozzi 
"It's what I am most focused on as a student," he said of the TESOL curriculum. "It will certify me to teach ESL, which will hopefully work out as a way to find a job." 
Graduate student Carrie Bindschadler is also interested in teaching abroad, and is completing the TESOL certificate with her graduate courses in order to make her a more valuable candidate for a future teaching position.
"Being able to get a TESOL certificate as a part of my graduate coursework is an incredible opportunity that will likely make me much more employable when I graduate and am looking for a position as an instructor," she said. 
Though the certificate is completed on top of the coursework required for a Miami degree, the skills that students gain from it make them better instructors and prepare them for graduate admissions or the job market. Carrie Bindschadler, MFA grad student
"Having the TESOL will make it much easier to obtain work abroad, and will also prepare me more fully for the realities of working with students for whom English is not their first language," Bindschadler said. "[It is] absolutely worth the time spent."