Director's Message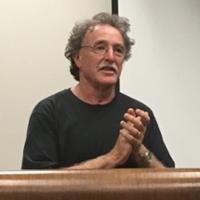 Miami has a long tradition of academic excellence, so we had a lot to live up to in planning this new program. Our Ph.D. in English is ranked 77th in the United States. Graduates of Miami's undergraduate Creative Writing major and our M.A. in Creative Writing have published more than two dozen books in the past decade and completed MFA's and Ph.D's in Creative Writing at top-tier institutions including the Iowa Writers Workshop, Syracuse, NYU, Florida State, University of Utah, Ohio State, University of Cincinnati, and University of Alabama. Their work has won numerous awards and honors including: Flannery O'Connor Award for Short Fiction; PEN/Robert Bingham Fellowship; finalist Pulitzer Prize in Drama. Eric Goodman, Director
With our MFA program, we've worked hard to combine the best of what we've been doing for decades—educating and training writers—with exciting options made possible by the low residency format and 21st Century technology. We believe developing writers need to read and discuss the best canonical and contemporary work in their field, so we've incorporated a real-time contemporary literature seminar into our curriculum. While recognizing that we write within a literary tradition, we also know that the world and the writer's place in it are rapidly evolving, and writers need to engage with that contemporary landscape, and the larger, changing world.
Our residencies have been, I believe, resounding successes. Our students think so, too, as you'll discover if you read their testimonials. Each day includes a craft chat, workshop, professional talk and reading, making for an exhilarating, exhausting, thrilling, and supportive eight days, yet with considerable time set aside for writing and bonding with your literary cohort. 
Because we are new and evolving we are still adding features to the program and opportunities for our students, including becoming involved editing and writing for OxMag, Miami's graduate-student run literary journal and serving as first readers for Miami University Press's prestigious annual Novella Prize series. 
In Creative Nonfiction, we will offer emphases in environmental, travel and nature writing, as well as in memoir. We will offer tracks in both popular as well as literary fiction. In poetry, we encourage a wide range of poetic praxis ranging from traditional to experimental, and will offer the option of a mixed genre or a hybrid course of study.
Finally, we recognize that the true strength and beauty of a low-residency MFA depends on the skill, talent and dedication of the faculty and the students. In addition to the full-time Miami University Creative Writing faculty, we've assembled a truly amazing group of writing mentors, prize-winning writers and teachers of writing, to guide and inspire you. We hope you'll join us on this journey of writing and discovery.
Director of Miami University Low-Res MFA in Creative Writing
goodmaek@miamioh.edu