Claire McLeod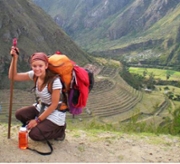 Assistant Professor
Ph.D. (2012) Durham University
203 Shideler Hall
513-529-9662
mcleodcl@miamioh.edu
Research Interests
My research goals aim to improve our understanding of planetary evolution and differentiation.  In order to achieve this, I employ a wide range of geochemical and geochronological tools to a range of rock types from different tectonic and planetary environments. All research to date has encompassed the following fields of study: igneous and metamorphic petrology, geochemistry, cosmochemistry and volcanology. Current research focusses on 1) continental crust differentiation with field localities in the Central Andes of South America and the Oslo Rift, Norway; 2) magmatic evolution of continental arcs with field localities in Bolivia; 3) early evolution of the Earth-Moon system through study of Apollo basalts and lunar crustal rocks; 4) early differentiation of our Solar System through geochemical studies of chondritic material.
Possible thesis/dissertation topics:
Continental Crust growth and recycling at active margins; a crustal xenolith study of the Central Andean continental basement (potential fieldwork in Bolivia).
Modern evolution of the Central Andean volcanic arc; geochemistry and geochronology of Plio-Pleistocene lavas (fieldwork in Bolivia and Peru).
Tracing early differentiation of planetary crusts through petrology, geochemistry and geochronology: juvenile vs. recycling processes on the Moon.
Magma petrogenesis and crustal growth in continental rifts; granites from the Permo-Carboniferous Oslo Rift, Norway (fieldwork in Norway).
Publications
McLeod, C.L., (in press) Lunar Magma Ocean (15pp). In Encyclopedia of Lunar Science (ed. B. Cudnik). Springer International Publishing.
McLeod, C.L. and Krekeler, M.P.S. (2017), Sources of Extraterrestrial Rare Earth Elements:  To the Moon and Beyond. Resources, 6, 1-28. doi:10/3390/resources6030040
McLeod, C.L., Brandon, A.D., Fernandes, V.A., Peslier, A.H., Fritz, J., Lapen, T., Shafer, J.T., Butcher, A.R., and Irving, A.J. (2016) Constraints on formation and evolution of the lunar crust from feldspathic granulitic breccias NWA 3163 and 4881. Geochimica et Cosmochimica Acta, 187, 350-374.
McGee, L.M., McLeod, C.L., and Davidson, J.P. (2015) A spectrum of disequilibrium melting preserved in lava-hosted, partially melted crustal xenoliths from the Wudalianchi volcanic filed, NE China.  Chemical Geology, 147, 184-199.
Wanhainen, C., Nigatu, W., Selby, D., McLeod, C. L., Nordin, R., Bolin N. J. (2014) The distribution, character and rhenium content of molybdenite in the Atik Cu-Au-Ag-(Mo) deposit and its southern extension in the northern Norrbotten ore district, northern Sweden. Minerals, v. 4; p. 788-814. Available online here: http://www.mdpi.com/2075-163X/4/4/788
McLeod, C. L., Brandon, A. D., Armytage, R. M. G. (2014). Constraints on the formation age and evolution of the Moon from 142Nd/143Nd systematics of Apollo 12 basalts. (Earth and Planetary Science Letters, v. 396; p. 179-189. Available online here: http://www.sciencedirect.com/science/article/pii/S0012821X14002337.
Jolis, E. M., Freda, C., Troll, V. R., Deegan, F. M., Blythe, L. S., McLeod, C. L., Davidson, J. P. (2013). Experimental simulation of magma-carbonate interaction beneath Mt. Vesuvius, Italy. (Contributions to Mineralogy and Petrology, v. 166; p. 1335-1353. Available online here: http://link.springer.com/article/10.1007/s00410-013-0931-0.
McLeod, C. L., Davidson, J. P., Nowell, G. M., de Silva, S. L., Schmitt, A. K. (2013). Characterizing the continental basement of the Central Andes: constraints from Bolivian crustal xenoliths. GSA Bulletin, v. 125; p. 985-997. Available online here: http://gsabulletin.gsapubs.org/content/early/2013/03/07/B30721.1.abstract.
Allen, M. B., Kheirkhah, M., Neill, I., Emami, M. H., and McLeod, C. L. (2013). Generation of Arc and Within-plate Chemical Signatures in a Collision Zone: Quaternary lavas from Kurdistan Province, Iran. (Journal of Petrology, v. 54; p. 887-911). Available online here: http://petrology.oxfordjournals.org/content/54/5/887.abstract.
McLeod, C. L., Davidson, J. P., Nowell, G. M., and de Silva, S. L. (2012). Disequilibrium melting during crustal anatexis and implications for modeling open magmatic systems: Geology, v. 40; p. 435-438. Available online here: http://geology.gsapubs.org/content/40/5/435.abstract.
Deegan, F.M., Troll, V. R., Freda, C., Misti, V., Chadwick, J. P., McLeod, C. L., and Davidson, J. P. (2010). Magma-Carbonate Interaction Processes and Associated CO2 Release at Merapi Volcano, Indonesia: Insights from Experimental Petrology (Journal of Petrology, v. 51; p. 1027-1051). Available online here: http://petrology.oxfordjournals.org/content/51/5/1027.full.
Teaching Interests
GLG 111 - The Dynamic Earth
GLG 427/527 – Isotope Geochemistry
GLG 357 – Igneous/Metamorphic Petrology
For complete descriptions of courses please see the 2018/2019 Miami Bulletin.