John Rakovan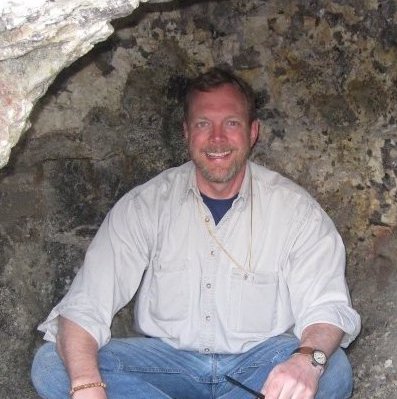 Professor and Director of Graduate Studies
Ph.D. 1996 SUNY @ Stony Brook
223 Shideler Hall513-529-3245
rakovajf@miamioh.edu
---
My research interests involve the integration of low temperature geochemistry and mineralogy in the study of crystal surfaces and water-rock interactions found in natural systems.  In particular, I am interested in processes such as crystal growth, metal sorption, trace element partitioning and other surface mediated reactions.  I am also concerned with the structural response of minerals to substituent elements, especially lanthanides and actinides in apatite group minerals.   Another research area involves geochemical processes that take place in the formation of hydrothermal mineral deposits.
Possible thesis/dissertation topics:
Structure, crystal chemistry and applications of apatite minerals to environmental problems (e.g. heavy metal sequestration and radionuclide containment).
Role of crystal surface structure on water-rock interactions.
Mineral replacement reactions in hydrothermal systems.
Current/recent graduate student research:
Wladyslaw Betkowski (Ph.D. in progress) Mineral replacement reactions:  implications for the geochronology and petrogenesis of the Llallagua tin deposit in Bolivia.
Alexandria Hoeher (M.S. in progress) Posner cluster structure and dynamics in the formation of hydroxylapatite.
Tomasz Marchlewski (Ph.D. in progress) Co-precipitation of Pb and As in apatite growth at low temperatures.
Olaf Borkiewicz (Ph.D. 2012) The role of precursor formation on apatite growth at low temperatures.
Cynthia Tselepis (M.S. 2011) Heterogeneous oxidation of Mn(II) at the geothite-water interface.
Laura Crimmins (M.S. 2012) Structure of apatite group minerals in the Ca-Pb-P-As system.
Selected publications:
Rakovan, J., Schmidt, Gunter, M., Nash, B., Marty, J., Kempf, A.R. and Wise, W.S. (2011) Hughesite Na3AlV10)28 22H20, a new member of the pascoite family of minerals from the Sunday Mine, San Miguel County, Colorado.  Canadian Mineralogist, 49:1253-1265.
Luo, Y., Rakovan, J., Tang, Y., Lupulescu, M.V., Hughes, J., and Pan, Y., (2011) Crystal chemistry of Th in fluorpatite.  American Mineralogist 96:23-33.
Borkiewicz, O., Rakovan, J. and Cahill, C. (2010) Time resolved in-situ studies of apatite formation pathways in aqueous solutions.  American Mineralogist, 95:1224-1236.
Luo, Y., Rakovan, J., Hughes, J., and Pan, Y. (2009) Site preference of U and Th in Cl, F, Sr apatites.  American Mineralogist, 94: 345-351.
Partey, F., Lev, S., Casey, E., Widom, E. Lueth, V., and  Rakovan, J. (2009) Source of fluorine and petrogenesis of the Rio Grande Rift type barite-fluorite-galena deposits.  Economic Geology, 104: 505-520.
Rakovan, J. and Partey, F. (2009) Mineralization of the Hansonburg Mining District, Bingham, New Mexico. In: Leuth ed. New Mexico Geological Society Guidebook, 60th field conference, Chupadera Mesa Region, p. 121-131.
Selected grants:
National Science Foundation 2010-2013
Coprecipitation of Pb and As in apatite and applications to environmental remediation.
Apex Companies 2009-2011 (with Tomasz Marchlewski)
Evaluation of Phosphate Induced Metal Stabilization on Former Refined Metals Site, Florida.
National Science Foundation (2007) (with H. Dong, R. Edelmann, S. Zou, and G. Pacey)
Acquisition of a High Resolution Analytical Transmission Electron Microscope for the Miami University Electron Microscope Facility.
National Science Foundation (with John Hughes)
Crystal chemistry of U, Th, and other Radionuclides in Apatite:  Environmental and Geochemical Implications
Teaching Interests:
GLG 180 - Gems and Gem Formation
GLG 201 - Mineralogy
GLG 432/532 - Clay and Clay Mineralogy
GLG 630 - Mineral-Water Interface Geochemistry
GLG 632 - X-ray methods in crystal structure analysis
GLG 699 - Scanning Probe Microscopy (summer workshop)
For a complete description of the courses please see the 2018/2019 Miami Bulletin.