Jason Rech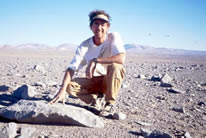 Professor
Ph.D. (2001) University of Arizona
111 Shideler Hall513-529-1935
rechja@miamioh.edu
My research interests are primarily in paleoclimate studies and surficial processes in arid environments and using the modern analog to interpret the fossil record.  I employ several methods to address research questions in these areas, including mapping, 14C dating, and stable isotopic techniques (13C, 18O, 34S, 87Sr/86Sr).  I am currently working in northern Chile, Jordan and North America.
Possible thesis/dissertation topics
Soils and geomorphology of the Atacama Desert, Chile
Climate change and water resources in Jordan
Current/recent student research projects
Nasser AlQattan (M.S. 2014) Interpretation of oxygen isotopic values (18O) of North American Land Snails.
Gentry Catlett (M.S. 2014 ) Pluvial deposits in Mudawwara, Jordan and their implication for Mediterranean and Monsoonal precipitation in the Levant
Sophie Lehmann (M.S. 2013) Climate change and water resources in southern Jordan
Terry Workman (M.S. 2012) Climate and culture change in Jordan
Craig Tully (M.S. 2010) Holocene mega-droughts in the Central Atacama Desert, Chile
Emily Winer (M.S. 2010) Interpretation and climatic significance of late Quaternary valley-fill deposits in Wadi Hasa, Jordan
Selected publications
Pigati, J.S., Rech, J.A., and Nekota, J.C. (2010) Radiocarbon dating of small terrestrial gastropods in North America, Quaternary Geochronology, 5:519-532

Rech, J.a., Nekola, J.C., Pigati, J.S. (2012) Radiocarbon ages of terrestrial gastropods extend duration of ice-free conditions at the Two Creeks forest bed, Wisconsin, USA, Quaternary Research 77:289-292
Rech, J.A., Pigati, J.S., Lehmann, S.B., McGimpsey, C.N., Grimley, D.A., Nekola, J.C. (2011) Assessing open-system behavior of carbon-14 in terrestrial gastropod shells, Radiocarbon 53(2) 325-335.
Pigati, J.S., Latorre, C., Rech, J.A., Betancourt, J.L., Martinez, K.E., Budhan, J.R. (2012) Accumulation of "impact markers" in desert wetlands and implications for the Younger Dryas impact hypothesis, Proceedings of the National Academy of Science Reviews, 109:7208-7212
Latorre, C.S., Calogero, M., Uglade, P.C., Gayo, E.M., Osorio, D., Salas-Egana, C., de Pol Holz, R., Joly, D., Rech, J.A. (2013) Late Pleistocene human occupation of the hyperarid core in the Atacama Desert, northern Chile, Quaternary Science ReviewsI, 77:19-30
Baker, A.M., Almendinger, R.W., Owen, L.A., Rech, J.A. (2013) Permanent deformation caused by coseismic rebound of subduction earthquakes in northern Chile, Nature Geosciences, 6:492-496
Pigati, J.S., Rech, J.A., Quade, J., Bright, J. (2014) Desert Wetlands in the geologic record, Earth-Science Reviews 132:67-81
Selected grants
National Geographic Society 2012 (with J.S. Pigati, M. Al Kuisi and J. Levy)
Climate Change and Water Resources in southern Jordan
National Geographic Society 2009-2010 (with J.S. Pigati (PI), C. Latorre and J. Betancourt) 
Evidence of an extraterrestrial impact or the result of natural processes?  Physical and chemical analysis of Late Pleistocene wetland deposits in the Americas
National Science Foundation 2008-2011 (with R. Allmendinger and M. Pritchard)
Collaborative research:  Forearc cracks and the rupture segments of great earthquakes, N. Chile and S. Peru
National Science Foundation 2006-2009 (with J. Pigati and J. Nekola)
Collaborative research:  Radiocarbon dating North American terrestrial gastropod shells
National Science Foundation 2006-2010 (with T. Jordan and B. Currie)
Collaborative research:  Miocene climate change west of the Central Andes:  Cause or consequence of uplift?
Teaching Interests
GLG 335 - Ice Age Earth
GLG 354 - Geomorphology
GLG 435/535 - Soils and Paleosols
GLG 436/536 - Paleoclimatology
Graduate seminars in soils and geomorphology
For a complete description of the courses please see the 2018/2019 Miami Bulletin.