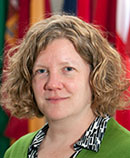 Title: 
Associate Teaching Professor; Joint appointment in the History Department and Global and Intercultural Studies (American Studies Program)
Education: 
PhD, University of Kansas
MA, University of Kansas
BA, University of Kansas
Teaching and Research Interests: 
Material Culture Methods and Theory
Public History
US 19th century Cultural History
History of Consumerism
American Studies
Courses Recently Taught: 
AMS/HST 435/535 Public History Practicum
AMS/HST 304 History, Memory and Tradition
HST 350 Investigations in the History of Miami University
AMS/HST 216 Introduction to Public History
Selected Publications: 
Artifacts from Modern America, Greenwood, 2017
"All Downhill from Here: Teaching with Drunk History," Perspectives on Teaching: The Newsmagazine of the American Historical Association, October 2015
"Secondhand Learning: Using Secondhand Consumerism in the Classroom" in Shopping: Material Culture Perspectives, Deborah Andrews, ed., University of Delaware Press, 2014
"True Collector: The Collecting Narrative of Alice Van Leer Carrick," Journal of the History of Collections 24:3, November 2012
Editor, Memory Matters: Proceedings from the 2010 Conference Hosted by the Humanities Center, Miami University of Ohio, SUNY Press, 2011
Love Entwined: The Curious History of Hair Work, University of Pennsylvania Press, 2007
Material Culture in America: Understanding Everyday Life.  An encyclopedia of 180+ entries.  Co-edited with Shirley Wajda, ABC-CLIO Press, 2007
Artifacts from Modern America, Greenwood Press, 2017.  Listed as a top-10 2018 reference book by the American Library Association's Booklist.
Work in Progress:
I would be happy to work with graduate students interested in completing public history projects, such as exhibitions, community collaboratives, and other public history work, and graduate students interested in 19th and 20th century material culture.
History Department
Room 272 Upham Hall
Oxford, OH 45056
513 529 7339
Office hours: M W 8-9, W 3-4, and by appointment