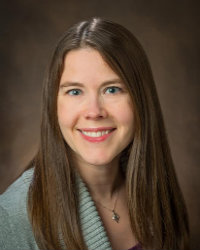 Growing up, Dr. Elizabeth Kiel became interested in child development while babysitting. Going into her undergraduate years, she knew she wanted to major in psychology with an emphasis on kids.
"I've always been really interested in the different paths that kids take and what may kind of push them down one path or another, which naturally lent to an interest in understanding human behavior," said Dr. Kiel. "Through my different coursework and research experiences in my undergraduate years, I figured out that I wanted to focus on clinical and developmental psychology."
"Connecting to other people is a big motivator for me. In research in psychology it's a pretty universal thing to try and understand the human experience; why we think and act the way we do," said Dr. Kiel.
Dr. Elizabeth Kiel received her undergraduate degree in psychology from Boston University. She then went on to pursue her masters and Ph.D. in child clinical psychology and developmental psychology from the University of Missouri. She now is a recently tenured Associate Professor in the Department of Psychology at Miami University.
Dr. Kiel teaches several undergraduate courses in the psychology department including PSY 231, an introductory course to developmental psychology across the lifespan, as well as PSY 345, which teaches child psychopathology and developmental disabilities. In addition, she has taught several senior level seminars in developmental psychology.
"I taught one seminar on the psychology of parents, which was about understanding different theories behind parenting and the parenting experience and how that relates to outcomes for kids," said Dr. Kiel. "More recently, I taught a seminar on the psychology of Harry Potter which was about using the books as a way to apply some of our developmental theories and engage our critical thinking."
At the graduate level, Dr. Kiel has taught a course in developmental psychopathology as well as a seminar on emotional regulation. She has taught practicums in the clinic and supervised graduate students in clinical psychology who are training to be therapists. More recently, she has been teaching in the statistics curriculum.
In addition to teaching, Dr. Kiel is deeply involved in research studying the development of anxiety related problems in young kids. Her research seeks to understand who, early on in development, is at risk for developing anxiety problems, why they're at risk, and the mechanisms by which that risk unfolds or does not unfold over time.
"I study temperament in infants and toddlers, which are early emerging personality characteristics that we see as very biologically based but also influenced by their environments," said Dr. Kiel. "I look at parenting behavior, the attachment relationship, and biology in both the children and their mothers. Thinking about all of these elements helps us understand which children are at risk for later anxiety."
Another aspect of Dr. Kiel's research is trying to understand the experience of the parents who have an anxiety prone child. Through her research, she tries to understand the factors such as characteristics, beliefs, and biological characteristics that influence some parents to be more likely to react in ways that are shown to predict later anxiety in children.
"While we do know there are certain parenting behaviors that are linked to anxiety outcomes, we don't often understand that kids who are already prone to anxiety may be actively eliciting some of these parental behaviors and so the same parent may parent very differently a child who is versus a child who is not already prone to anxiety," said Dr. Kiel. "I study the kid's active role in changing the parenting environment that then does go on to facilitate their continued anxiety."
Students play an extremely active role in her research. She currently mentors 6 graduate students and about 20 undergraduate students. She also mentors honors thesis and other independent work that students might pursue.
"I really try to create a class environment of engagement, and connect what my students are learning to things that are relevant in their lives or to their career paths," said Dr. Kiel. "My students and I are on a journey together and I really try to mentor that process."
"I also really like it when I feel like I can change a student's mind about something and my courses can make students think about topics differently and open them up to thinking about a new way of understanding something," said Dr. Kiel. "That type of intellectual engagement is really exciting to be a part of."