Helping kids Cope: Dean's Scholar Studies Childhood Shyness
Name: Megan Perry
Class: 2017
Hometown: Evansville, IN


(Megan Perry, recipient of a Dean's Scholar award for 2016)
What is your Dean's Scholar Project about?
My Dean's Scholar Project explores the role of temperament, parenting, and gender in the development of self conscious shyness in early childhood. The project investigates the progression of self-conscious shyness in a longitudinal study from ages two to four. At age two, mothers and their children completed behavioral episodes including Risk Room, Clown, and Puppet Show tasks (Buss, 2011) from which fearful temperament, dysregulated fear, and protective parenting were scored. At age four, mothers and their children completed behavioral episodes including a "compliments" and "speech" task where participants were scored for observable measures of self- conscious shyness such as vocalizations, gaze aversion, and fidgeting.  I hypothesized that the development of self-conscious shyness was moderated by maternal control behaviors. Namely, when children demonstrated fearful temperament, manifested as dysregulated fear, and are exposed to higher intensity maternal control behaviors, then they were more likely to develop self-conscious shyness.
I investigated the relationship between genetically-based temperament, maternal behaviors, and gender as primary risk factors in the emergence of self-conscious anxiety. High levels of self-conscious shyness have been linked to later anxiety, depression, and difficulties with peer relationships. Additionally, high self-conscious shyness could present the missing link between early behavioral inhibition and future maladaptive developmental outcomes. Dissecting the interplay between genetic temperament, parenting behaviors, and gender differences is significant for understanding how internalizing disorders develop in early childhood.
How has the Dean's Scholar award enriched your Miami experience and/or impacted your postgraduate plans?
Dean's Scholar gave me the opportunity to develop an independent honors thesis and pursue a research project that I was passionate about. Additionally, it gave me the ability to formulate my own research question and experimental design, which is a crucial skill for clinical psychology Ph.D. programs. In line with establishing postgraduate plans, the Dean's Scholar project shaped my research interests for graduate school and helped me find a school that matched my research goals. Further, the Dean's Scholar award has given me the opportunity to present at the Society for Child Development, a national conference dedicated to the pursuit of leading child development research, as an undergraduate student. I am grateful for the Dean's Scholar experience by allowing me to extend my research skills in a unique way and apply my undergraduate research experience to my own interests. The Dean's Scholar project has been a hallmark of my undergraduate career and will be one of my favorite aspects of Miami as I graduate.


What are your plans after graduating?
Next year I will be attending University of Mississippi's Clinical Psychology Ph.D. program in Oxford, MS. In addition, I will be joining the Heath and Anxiety Research and Treatment Lab directed by Dr. Laura Dixon. I am excited for the next chapter to begin at the University of Mississippi and develop into a future clinical psychologist. In the long term, I want to work in an academic medical center where I can pursue a research and clinical career. I hope to develop novel anxiety interventions and explore the physiological underpinnings of internalizing disorders and their connection to severity and physical presentation.
Mentor: Dr. Elizabeth Kiel, Associate Professor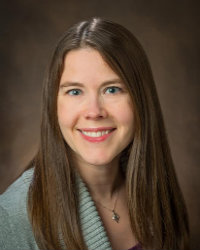 (Dr. Liz Kiel, faculty mentor of Ms. Perry's project)

Why is undergraduate research important? It gives students hands-on experience with critical and scientific thinking, and it brings the research process to life. I think many students don't realize how much they enjoy the research process until they are doing their own project. For me, this is important because students bring fresh thinking that can move the lab in innovative directions.


What's notable about this undergraduate research project in particular? I am particularly impressed with Megan's project because it both incorporates work she has already been doing in the lab (detailed coding of parents' behaviors with their children) and allows her to pursue additional coding of child behaviors in our longitudinal study. Megan is also learning advanced statistical techniques to ask developmental questions worthy of a graduate master's thesis topic.