Angela Day (Class of 2018)
senior double major in English/Creative Writing and East Asian Languages and Cultures (with a concentration on Chinese)
minor in Asian/Asian American Studies
from Canton, OH
served as an International Peer Orientation Leader (iPOL) helping new international students adjust to life in the U.S.
studying abroad in Chengdu, China (Fall 2016)
"Just don't be afraid to explore—classes, clubs, activities, anything. You never know what will spark your interest and change your life!"
Why Miami?
"The environment of Miami's campus meshed well with what I was looking for in a university. As a 'Public Ivy', Miami offered a wide range of studies to choose from, and because I'm someone who's always been interested in too many things to narrow down, this was perfect for me!
"My first year at Miami was much more than I could have ever expected out of college. I began the year feeling like I was taking a shot in the dark when it came to my major, and I was barely aware that minors were also options to study. I took the Introduction to Asian/Asian American Studies course [AAA 201] my sophomore year on a whim to fill a general education credit. It ended up completely changing my perspective on history, modern culture and society, media, and myself as an Asian American. It became something that I wanted to pursue and to integrate with my majors.
"The diversity organizations at Miami are filled with a variety of students of all backgrounds who come together to appreciate and promote different cultures, and that community is my favorite aspect of Miami. When individual students of different races, ethnicities, and beliefs can work together under a common goal, it renews my faith in what Miami has to offer through its talented students."
Best Miami Experiences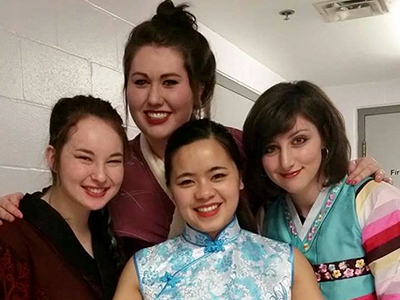 Angela Day (left) and her roommates pose before a February 2015 Fusion performance. Each is wearing traditional clothing from Japan, China, or Korea.
"One of my best experiences in my short college career so far has been being part of the Asian American Association's annual cultural dance performance called "Fusion". Students from all backgrounds put so much effort into creating this elaborate show that a strong bond forms between all of us that lasts even after the show is over!
"I also had the opportunity to be a part of the Office of Diversity Affairs' annual immersion trip. We went to San Francisco for a week to study Asian American and LGBTQ+ culture.
"During my freshman year, I had the opportunity to live in the Global Connections Living Learning Community [LLC], which allowed me to interact with a wide variety of students, many of whom are now very good friends of mine. There was a strong sense of community in the LLC that allowed me to become more confident in myself to take chances and accept challenges that led to some of my best memories at Miami.
"Another great Miami experience has been my role as an International Peer Orientation Leader (iPOL). I helped international students move onto campus and adjust to Miami's culture, which was rewarding in allowing me to make friends and finally give back to Miami and its students."
Miami and Liberal Arts Education
"I think the various fields of study in the liberal arts are more applicable to contemporary life, thought, and society than they may originally seem. The liberal arts have a comprehensive way of approaching a topic, which allows me to think past classifications of majors or courses and apply knowledge from one field to another, and then that comprehensive knowledge to the world around me.
"For example, as a creative writing major, I was influenced by my Introduction to Creative Writing class [ENG 226] because it allowed me to view my interest in writing as a legitimate field of study and experiment with various ways to express my thoughts and ideas. Similarly, my Introduction to Asian/Asian American Studies class opened my eyes to a completely different perspective of American life and history, and it gave purpose to my writing and made me decide to declare Asian/Asian American Studies (AAA) as my minor.
"My favorite part of AAA is that it fills in the gaps that were left from the stories of mainstream knowledge of history and society. America is the country it is today because of its incredible diversity and colorful history, and I think it's time that we acknowledge and celebrate that diversity rather than ignore its contributions to our society as a whole. This mindset is key to change in the future, and classes offered by the AAA minor are some of the gateways to this mindset.
"I feel that my studies and experience at Miami have broadened my perspective and have given me a clearer idea of what I would like to work towards in the future—promoting the importance of the history, culture, and ideas of America's diverse communities—even if, for the time being, my exact path is still uncertain!"
Helping New International Students Gain a Comfortable Foothold at Miami
"Working as an iPOL during the summer before my sophomore year and the following winter was a mind-opening experience for me. Along with my team members, I helped move new international students into their dorms or apartments and then hosted a variety of programs that helped them become acclimated to American culture and Miami culture.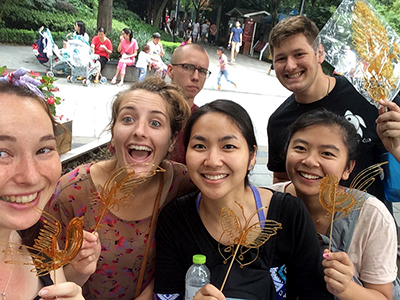 Angela Day (left) and her classmates explore People's Park and enjoy candy art in Chengdu, Sichuan, China.
"Some of these programs were the standard, necessary procedures all international students face: checking vaccinations, visa and passport scanning, obtaining IDs, etc. However, other programs developed for them were recreational, such as eating dinner Uptown, playing volleyball, and going ice skating. Participating in these events really allowed me to get to know many of the new students and make good friends. Just as importantly, I learned the value of even the smallest bit of kindness. Entering a different country to study can be terrifying (as I am learning currently during my study abroad experience in China!).
"All in all, a friendly, understanding smile and a helping hand are as good a comfort as any you can come by. I hope my experience as an iPOL has promoted not only the university in a positive light, but also an attempt at unity through diversity."
Advice to Students
"Along with your classes for your major, I strongly suggest that students take other courses that they think could be interesting. Even if you believe your psychology course won't have anything to do with your biology course in the beginning, you would be surprised by what comes back to you later—for example, heading towards pre-med and observing human interaction within the hospital.
"Knowledge truly is power, and it can come from the most unlikely places. The more you know, the fuller your experience of life may be.
"My incredibly positive experience in iPOL has had direct bearing on what I would like to do in the future because I got to experience what a little bit of understanding and acceptance of diversity can bring to the world. Although I want to promote that kind of unity through writing, unity cannot be accomplished without understanding. This is is why I think learning about the diversity among our country's people is integral to a better future.
"Just don't be afraid to explore—classes, clubs, activities, anything. You never know what will spark your interest and change your life!"
[September 2016]