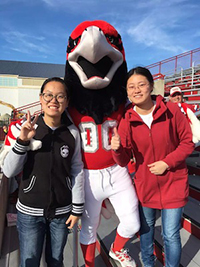 When first-year Lulu Liu thinks about her hometown, in Anhui Province, China, she misses her family, her friends, and exploring the city in which she grew up. But now, she says, she has come to call a new place home.
"I love Miami," she says.
Lulu didn't know much about Miami University before she decided to make the 7,000 mile journey from her bustling city to the small college town nestled within Ohio farm country. But she always knew she wanted to study abroad in America, and she had heard positive things about Miami from her teachers.
"They always told me that the business school here was good, and that is what interested me," she says.
Lulu says she was excited when she received her acceptance letter from Miami, but nervous to leave her family, and everything comfortable and familiar. She wasn't quite sure what to expect – but she was pleasantly surprised.
"Oxford is much smaller than where I am from, it is much quieter, safer and more peaceful," she says. "I like this a lot more than I expected."
Since arriving in Oxford only a few short months ago, Lulu has already made a home for herself in Mary Lyon Hall on Western Campus, where she enjoys watching the passing of the seasons on the picturesque portion of campus.
"Autumn is beautiful here and Western Campus is very peaceful and beautiful," she says.
She has also made good friends with her roommate, who she says is friendly and welcoming. She even took Lulu to Wal-Mart and the beginning of the semester, and helped her around campus, so she could better adapt to her new surroundings.
"The language barrier can be difficult, but the domestic students here are very nice and we get along," she says.
Lulu says she is very studious, and is relishing her challenging coursework, especially her math class and her anthropology elective. She says she enjoys her professors, and although she is yet to decide on a major, she is interested in applying for the business program.
If she is not busy studying, Lulu works part time at Western Dining Commons, helping serve students tea at the Tea Hive for a little extra cash.
"It is sometimes hard to understand what everyone is saying, but it is good English speaking practice," she says.
Much of her spare time, Lulu spends at the ACE program events, especially those that involve sports or physical activities.
"ACE has been a great resource for me and I enjoy being a part of it," she says.
This year, Lulu got her first taste of an American Halloween at ACE's annual Halloween party, where she got to carve pumpkins and eat candy.
"I didn't dress up, and it rained, but it was still really fun," she says.
While Lulu still has more than three years to go at Miami, she says she is looking forward to the future, and believes coming here was one of the best decisions she has made.
"Studying abroad at an American university allows you to contact different kinds of peoples and learn different languages every day," she says.  "It is a very special thing that we can never have at a Chinese university."