Leadership Evaluation and Development (LEAD)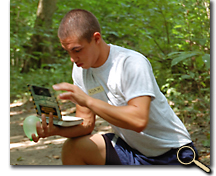 Leadership Evaluation and Development offers cadets a firsthand look at the Air Force environment. You will attend an approximately 3-week summer LEAD session at a selected Air Force Base. At LEAD, cadets receive:
career information
junior officer training
aircraft and aircrew indoctrination
survival training
weapons familiarization
physical trainingfamiliarization with the organization and the function of an Air Force Base
Professional Officer Course
After completing LEAD successfully, cadets enter the Professional Officer Course (POC) for the last 2 years of college. In the POC, you will receive:
advanced training in leadership, management, communications, and national security
practical leadership experience at leadership lab where you will hold various leadership positions as part of the team which plans, organizes, staffs, directs, and controls cadet corps and lab activities
How Do I Attend LEAD if I'm Interested?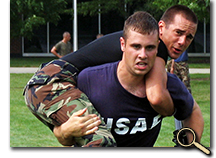 To attend LEAD, you must compete for an enrollment allocation with students nationwide. The allocation process is based on the "whole person" concept in which academics, physical fitness, and your performance as a cadet/student are considered. Completing LEAD is a great achievement for any cadet; the hard work is not without its rewards, as successful completion of LEAD is an important step towards receiving an Air Force commission.
Camp
If you have completed both the Aerospace Studies 100 and 200 curriculum, you will attend an approximately 3-week camp. Remember, LEAD tests:
physical ability
ability to command a flight in drill
ability to drill
adapting to stress
ability to interact with others
leadership
Important Camp Positions
Flight/Squadron/Group/Wing Commander
Flight/Squadron Adjutant
Flight/Group/Wing Standardization Officer (STANDO)
Flight/Group/Wing Physical Fitness Officer
Flight/Group/Wing Drill and Ceremonies Officer
Flight Information Officer (IM)