American Institutions, Ideas, and Experiences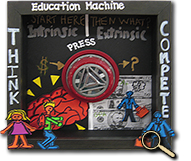 This area of concentration (for the AMS major) focuses on the core institutions, ideas, and expressions that define America as a nation and an ideal. It provides a traditional American Studies track.
Students must select and take 18 semester hours with at least 12 hours at the 200 level and above, incorporating at least 3 different disciplines, from among the following courses.
Courses for American Institutions, Ideas, and Experiences Area of Concentration

| Course | Title | Hours |
| --- | --- | --- |
| ARC 225 | Design and Human Behavior | 3 |
| ARC 426 | Architecture and Society | 3 |
| ENG 141 | Life and Thought in American Literature to 1865 | 3 |
| ENG 142 | Life and Thought in American Literature 1865-1945 | 3 |
| ENG 143 | Life and Thought in American Literature 1945 to Present | 3 |
| ENG 282 | American Fiction | 3 |
| ENG 293 | Contemporary American Fiction | 3 |
| ENG 349 | Colonial and Early National American Literature | 3 |
| ENG 352 | American Literature, 1810-1865 | 3 |
| ENG 353 | American Literature, 1865-1914 | 3 |
| ENG 355 | American Literature, 1945-Present | 3 |
| ENG 440 | Major English and American Writers * | 3 |
| GEO 219 | Geography of the United States and Canada | 3 |
| HST 111 | Survey of US History, Colonial Period to Reconstruction | 3 |
| HST 112 | Survey of US History, Reconstruction to Present | 3 |
| HST 212 | Recent American History 1945 to Present | 3 |
| HST 219 | U.S. Diplomatic History to 1914 | 3 |
| HST 222 | U.S. Foreign Relations Since 1898 | 3 |
| HST 223 | Assassinations in US History | 3 |
| HST 348 | Witch Crazes and Other "Great Fears" in Europe and America | 3 |
| HST 361 | Colonial America | 3 |
| HST 362 | The Era of the American Revolution | 3 |
| HST 363 | The Early Republic 1783-1815 | 3 |
| HST 365 | Civil War and Reconstruction | 3 |
| HST 367 | The United States in the 1960s | 3 |
| HST 368 | United States from Progressive Era to Great Depression | 3 |
| HST 369 | United States in the Modern Era | 3 |
| HST 387 | U.S. Constitutional Development to 1865 | 3 |
| HST 388 | U.S. Constitutional Development since 1865 | 3 |
| HST 389 | Great Issues in American History: Rhetoric and Reality | 3 |
| HST 391 | U.S. Presidential Biography | 3 |
| HST 397 | American Environmental History | 3 |
| HST 431 | The U.S.-Vietnam War | 3 |
| MUS 461 | American Music | 3 |
| POL 342 | American Political Careers | 3 |
| POL 343 | American Presidency | 4 |
| POL 344 | U.S. Congress | 3 |
| POL 352 | Constitutional Law and Politics | 4 |
| POL 353 | Constitutional Rights and Liberties | 4 |
| POL 354 | Political Parties and the Election Process | 3 |
| POL 373 | American Foreign Policy | 3 |
| POL 376 | U.S. National Security Policy | 3 |
| POL 411 | American Political Thought | 4 |
| POL 459 | Capstone Seminar on the American Political System | 3 |
| REL 341 | Protestantism and the Development of American Culture | 3 |
| REL 442 | Religion, Society, and Culture in New England | 4 |
| THE 391 | Modern American Theatre | 3 |
| THE 493 | American Theatre | 3 |
* Contingent on semester topic