Carly Kimiecik (Class of 2015)
senior double major in American Studies and Health Promotion
from Oxford, OH
conducted research on how urban parks are utilized by people from low-income communities
2014-2015 Altman Student Fellow currently studying human love of nature with respect to the Anthropocene
studied abroad in Luxembourg in Spring 2014

Undergraduate research is also a great opportunity. It's another way to practice what you learn, especially if you're looking into grad school, and it's another reason why I chose Miami!

Why Miami?
"My dad is a professor here in the Department of Kinesiology and Health, so growing up I've always been pretty familiar with the Oxford campus. Coming in as a freshman, I thought I'd know where everything was, but I didn't know all the resources that were available to me. In high school, I'd taken a lot of classes that would prepare me for college, but I often got by without studying. You can't really do that at Miami! As a college freshman, I had to figure out how to study better and what professors wanted from me. After that, my transition as a Miami student became easier. From there, I found my niche, which has really helped me to improve my GPA.
"From the beginning I was interested in doing study abroad and studying health promotion, which was my first major. My dad sparked my interest in that. I wanted to help people that didn't have great access to health resources. Then I took an American studies class, AMS 205, with Dr. Kimberly Hamlin during my second semester here. It talked about economic mobility, race, gender, class—none of which I'd been interested in until I took that class. This made me decide to declare American Studies as my second major, which I did in my sophomore year. Professor Hamlin has really become a mentor for me."
Best Miami Experiences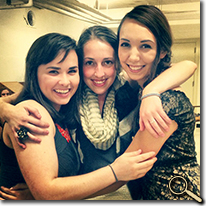 "I've been involved in a lot of great opportunities at Miami, including study abroad in Luxembourg, undergraduate research, and becoming an Altman Student Fellow in the Humanities Center last year. All these experiences have made my time here really special.
"I did my undergraduate research in the summer of 2014 with Professor Hamlin. She understands the connection I make between my two majors in Health Promotion and American Studies. I'm interested in health disparities and health inequalities as well as the cultural aspects of health. I decided to do research on how urban parks can improve the health statuses of low-income communities and people. I started doing a case study on Washington Park, which is in the Over-the-Rhine neighborhood in Cincinnati. There had been an interesting renovation of Over-the-Rhine, and I wanted to see what kinds of people actually use the park.
"While in Over-the-Rhine doing this research, I got started in a small internship to promote a special food stamp program with Findlay Market. The program basically helps people use their EBT cards to buy fresh produce. It was very interesting, but the commute ended up being difficult, so in the end I decided to step back and do a broader research on urban parks in general. I'm now focusing on a research project related to this year's Altman Fellowship, which is about the Anthropocene era. This is a new epoch that scientists think we are moving into due to humanity's effects on the environment."
Miami and the Liberal Arts
"Although health promotion is the field I want to go into as a career, American studies has sparked my interests in the cultural aspects of health, and it's helped me gain a lot of analytical skills. We have to read really dense articles sometimes and develop our writing. Health Promotion majors don't focus so much on writing, so this is why American studies is great for me. It's very open and interdisciplinary, and we do a lot of different presentations in my classes. Being able to talk in front of people is a really important skill to have that you can take to any field.
"The liberal arts is great because you can pull in so many different subjects and topics and mold what you want to do. This is what I've been able to do with American studies. Liberal arts is very open to your interests and helps you find a way to relate them to any major at Miami. It's very open to me being a Health Promotion major as well. With its focus on diversity, American studies has helped me learn to see things from different views, read more analytically, and understand more aspects of health promotion than maybe even other Health Promotion majors would."
Study Abroad in Luxembourg and Selection as an Altman Student Fellow
"Last spring I went to Luxembourg for the semester, and it was great. Going abroad was one of the reasons I came to Miami in the first place, and I found that there were a number of classes in the College of Arts and Science I could take. I really enjoyed my classes in Luxembourg, which largely covered anthropology and sustainability. I was able to relate both of these subjects to my focus on health and culture in my American Studies major. It was nice to tie those together.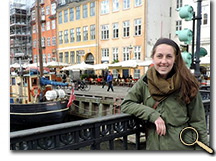 "While in Luxembourg I had a great host family and visited a lot of different places. Because my own family is Polish, I really wanted to visit Poland, and Krakow was one of my favorite places. We also went to Sweden and Denmark for a study tour. I had been to Denmark once before, and I really love how people in Copenhagen are so conscious about their relationship with the environment. We saw sustainable rooftop gardens and green roofs and went biking around the city, which was particularly cool because it is so structured and made us feel like we were part of Danish culture for a little bit. About 40% of people in Copenhagen bike to work, which is something unheard of in the U.S.!
"During my semester abroad I also took a sustainability class about how humans relate with nature. The Altman Fellowship that I received last year is focused on the Anthropocene era. We examine the human-environment connection and things like climate change, agriculture, biodiversity, and more. It ties in perfectly with my own interests really well.
"My path to an Altman Fellowship started by my being anonymously nominated by a Miami professor. I had to write a short essay and fill out an application explaining why I'd be a good candidate, where my interests lie, and so on. From there, only five of us were chosen. We get to interview various guests of the Altman Distinguished Lectures, have dinner with them, and have a more in-depth conversation. We turn these interviews and conversations into a website and podcast about the Anthropocene to explain what it is and what we humans can do better about the environment.
"A lot of professors are involved in the Altman Fellowship as well. I took a class last fall, AMS/IES 405, about the Anthropocene era and have been working on independent research this semester to develop my own thesis. I'm looking at the issue of the term biophilia, which is the love of nature that humans arguably have on an innate level, and how biophilia relates to the discussion surrounding the Anthropocene. Yet rather than demonstrating biophilia, we are destroying nature through the built environment and our increases in technology use. Parks are among the remedies that humans have created and utilized in attempt to maintain our connection to nature. I'll be looking at whether we can salvage our relationship with the environment or if we're heading down a path in which there is little green space left.
"Some of the material in my research can be a little more science-oriented than what I'm used to, but the point of the Altman Fellowship is to combine the sciences and humanities together for a common goal. My plan is to present my findings at the Undergraduate Research Forum this April [2015].
"Altogether, these experiences have made me much more aware about the world. I grew up in a middle-class income family, so I think studying low income groups and other socioeconomic societies is informing me of different social situations that are out there. As I learn more about the environment, sustainability, economic mobility, and the cycle of poverty, I'm interested in making others aware of these things too, and I just want to help give people more access and resources to help them live a higher quality of life."
Advice to Students
"At the very least, try to take a few classes in a major that is interdisciplinary, because you are bound to find something you are interested in. I've had great experiences with the professors here in the College of Arts and Science, and taking some liberal arts classes is bound to allow you to make all sorts of connections and get involved in opportunities to do research and study abroad.
"I know that study abroad can be a little scary and intimidating, but I think you will gain so much from becoming a part of another culture, especially for a whole semester. You can really feel like you are living there, picking up different practices and interests that will impact how you live even after you return to the U.S.
"Undergraduate research is also a great opportunity. It's another way to practice what you learn, especially if you're looking into grad school, and it's another reason why I chose Miami!"
[October 2014]