Olivia Harrison (Class of 2015)
senior double major in American Studies and Mass Communication
from Chattanooga, TN
received a Peter W. Williams Scholarship from the American Studies Program to conduct research on 'trunk shows' focusing on female consumerism
president the Society of American Studies Scholars
participated in Miami's Inside Hollywood program in January 2014
"It comes down to communication being one of the absolutely most important skills for any occupation—the ability to read something, critically analyze it, and then communicate it to someone, either orally or through the written word. All of the classes that I've taken at Miami have helped hone and develop these skills."
Why Miami?
"I'm from Chattanooga, Tennessee, and I've lived my whole life in the South. I wanted to go to school elsewhere, but not too far, and I thought that Ohio was an interesting middle ground. My sister was a senior at Miami when I was a freshman, so that also helped facilitate the transition. And as soon as I settled in here, I made friends with a group of about 5 girls in my hall, and we've been close ever since.
"I didn't declare American Studies and Mass Communication until November of my sophomore year. I initially thought of choosing zoology, but after taking a class I realized it was harder than I expected. I then considered English, because I like to write and critically analyze literature, but it just so happened that while doing the Redhawk Hunt, which is a scavenger hunt all around campus, we went into MacMillan Hall. The American Studies program is based there, and there was a pamphlet on a table called 'Analyzing Popular Culture.' I started reading it and realized, 'Yes, this is absolutely what I want to do!' It was kind of by chance and luck that I found my first major at Miami.
"I started with AMS 205, which is one of the introduction courses, and I loved it. Everything just clicked. I realized I could make much of the major my own, so I chose Popular Culture, Consumerism, and Media Studies as my concentration. This is also where my Mass Communication major came in. Both majors have a lot of overlap, so I decided to do a double major to immerse myself in this knowledge and essentially kill two birds with one stone."
Best Miami Experiences
"Some of the best things that I've experienced at Miami are the opportunities that are given to undergraduate students. I became an undergraduate research assistant and began conducting my own independent research on female consumers and their relationship with direct sales companies that do home parties, or 'trunk shows,' and engage in business practices in the home. This is what led to my receiving the Peter W. Williams Scholarship from the American Studies Program this past May. It provides me with a grant to continue my research, which became the basis for my American studies capstone course on consumerism. I'm going to continue my research during Winter Term 2015 and the spring semester.
"Another great experience was going on the Inside Hollywood program this past January, during Miami's first winter term. I didn't really want to be too far away from Miami at the time, which effectively eliminated study abroad, but the study away opportunity was interesting to me. It was actually perfect, since Los Angeles is the center of the media industry, so going there was a dream come true. It also gave me the chance to escape, for about 3 weeks, one of the coldest and worst Ohio winters in recent memory!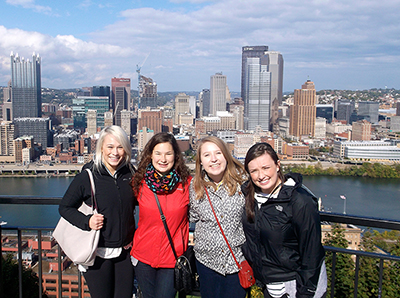 Olivia Harrison and 3 fellow members of the Society of American Studies Scholars on Pittsburgh, PA, field trip
"I feel completely at home with the American Studies Program. It feels small and intimate, and I relate well to the students and faculty there. I've had amazing conversations with people in American studies. As president of the Society of American Studies Scholars, we work really closely with the professors, so I've developed good relationships with them. Since Miami's such a big campus, it's easy to sometimes feel lost, but I've found a spot in American studies. It feels great that the faculty know me, even outside of the classroom, so I can stop by during office hours and chat about all sorts of things.
"Now that I'm a senior and in the midst of applying for jobs, it can be easy to get a bit discouraged when I think employers are chiefly looking for business majors. But once I show them that I've done research, I've gone on internships, and I've been an undergraduate assistant, I think that potential employers are really impressed."
Miami and the Liberal Arts
"In American studies, you have to really use your critical thinking skills. These are skills that not necessarily everyone has. For example, I recently applied to a program with Nielsen, the TV ratings company, and I and 5 other students were invited to attend a special dinner at Miami with 3 Nielsen executives. All the other students were business majors! At first it was a bit intimidating, but I realized that I know just as much as they do, in different ways, and probably have skills that they don't. We went around the table introducing ourselves, and when it came to me saying I'm in American studies, the executives said, 'Oh, tell me about that.' It's something that they might not necessarily know a lot about, so they were really interested to hear more about me.
"Besides the critical thinking skills I've learned through my majors, I've been able to take a lot of interesting classes, such as English and history. It comes down to communication being one of the absolutely most important skills for any occupation—the ability to read something, critically analyze it, and then communicate it to someone, either orally or through the written word. All of the classes that I've taken at Miami have helped hone and develop these skills.
"The liberal arts also often allow you to make your majors into what you want them to be. American studies is very open, so you can really just design how you want to go forward. We have to critically analyze things in our papers, and I have a lot of interest in media and gender studies, so a lot of my papers are about feminists critiques on the media, or looking at television through a feminist lens. You can bring in just about any of your interests to make the liberal arts your own.
"Two examples are AMS 205 and 206, both introduction courses that cover core concepts in American studies. And the farther you get into the major, the more you get involved in classes that are more geared towards your concentration. I've taken mass communication classes, an awesome class on the history of women in music, a kinesiology class about the history of leisure, and many more."
Offering a Feminist Critique of Consumerism and Exploring Inside Hollywood
"Last semester I took my capstone class, in which we developed our own individual project over an entire semester. The theme of the class was consumerism. One student, for example, did her project on the consumer pet culture, another did beer consumption, and so on—all looking at how advertisements are channeled towards specific demographics. I decided to do a feminist critique of consumerism and direct-sales companies. This was inspired by my mom, who is constantly getting invited by her friends to parties—'trunk shows'—to sell clothes. Her friends have a party at their house and show off these items. My mom always feels obligated to buy stuff because it's her friends, and she wants to support them in their business ventures, but it's super uncomfortable in a setting where you're in a room where everyone knows what you're buying—or not buying! The products can be makeup, jewelry, clothing, cookware—all traditionally feminine items. This selling concept was intriguing to me, and since good research often comes out of stuff that really irks you or makes you uncomfortable, I decided to do my research on it.
"We learned different ways to critique consumerism culture. I used a method developed by media scholar John Fisk that sees consumption as a balance between rebellion and containment. I looked at the origin of 'trunk shows,' which started in a time when women were expected to support their families by staying contained within the home. These became great opportunities for women to have business ventures and earn money in a socially acceptable way—they were still contained within the home, just having parties, and focusing on products that only women would normally use. I started off by doing secondary research on what others have said, and then I did some primary analysis of training videos from Mary Kay Cosmetics and jewelry companies—the way these businesses market themselves to women.
"Now that I've critically analyzed that, next semester as part of my American studies honors project I'll be working towards more primary analysis, including attending a few parties to understand those interactions and interview people who host and attend the parties. I also want to explore how these parties exploit social aspects as well. I've had people tell me, 'I have this one Facebook friend, and all she ever does is post about her Mary Kay.' This behavior can wear on friendships, and I think that's interesting. I'll be working one-on-one with my advisor, Dr. Peggy Shaffer, on this honors project, and I'm very excited!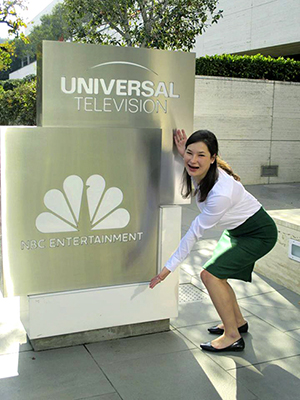 Olivia Harrison poses in front of NBC Entertainment.
"For Inside Hollywood this past January, our group spent 3 weeks in L.A. We visited TV stations and studio sets, met with professionals in the entertainment industry, saw what goes on behind the scenes, and learned about the different types of jobs. There was both the creative side, in which we spoke to writers, and the business side, with people from HR and marketing and stuff like that. All of them are Miami alumni, so they basically told us, 'You can be here!' It was really encouraging, because I think a lot of times you tell people, 'I want to go into TV,' and they say, 'OK, that's a long shot, so good luck with that!' But these Miami alums did it—they moved to L.A. from Ohio and started at the bottom of the totem pole, working as production assistants or in the mail room. You just have to work hard and if you love it, then you can make it.
"The experience was very valuable in helping me determine where I see myself in the future. I originally thought I'd like to do TV writing, but now I'm looking at various types of communications jobs, such as at a local news station, like the NBC affiliate in Chattanooga where I had an internship. I'm considering working in either small-scale media or doing communications in a nonprofit setting, an organization that I believe in and care about."
Advice to Students
"Often when I go home for the holidays and tell people I'm an American Studies major, someone will ask, 'Well, what are you going to do with that?' Don't let questions like that discourage you, because you can do anything with American studies and lots of other liberal arts majors. You really develop skills that a lot of people don't have, and if you're passionate about the subject, then that's going to come out, including in your grades. Being passionate about the work you're doing will ensure that you'll do well. And if you can articulate your excitement about your studies to someone, that impresses them. Don't think you need to have a business or engineering degree to do well. If that's not you, then you're still going to do well with what is you.
"It's important to think of internships and study away programs like Inside Hollywood as closely related. For my first regular internship, I did research at a historical society. I loved it, but I figured out it's not exactly what I want to do (although I do love history). Then I worked at an NBC News affiliate, where I was able to try out a lot of different things, such as working with reporters and producers and writing news stories for the web. In both cases I could sample different things to figure out what I really liked.
"These kinds of experiences let you glimpse what the job is, and even if you come out thinking 'Oh, God, no,' that's just as helpful as going in knowing 'Yes, this is where I belong.' It's honestly just a game of trial and error. The important thing is that you can't really have these experiences in the classroom!"
[October 2014]