Ray Gilbert (Class of 2016)
senior major in American Studies (concentration in Popular Culture, Media, and Consumerism)
minor in Information Systems
from Avon, CT
interned with both NBC and Sports Technologies
member of Sigma Pi fraternity, Miami Business Enterprises, the UNICEF Club, and more

Networking is also very important. It helps get your foot in the door and find a good way to stand out. Remember that your internship does not have to be exactly what you want to do. I've found that a lot of people learn what they do not want to do from their internship, so it's always a good learning experience.

Why Miami?
"Besides the fact that Miami is a really great school, I really wanted to branch out, meet new people, and expand my horizons. I knew one person here, who informed me that Miami is great, so I applied and got in. I then attended Make It Miami as a prospective student.
"I loved Miami's atmosphere — work hard, play hard. However, like many students in their first year, I had no idea what I wanted to study or what career path to take. Although it was discouraging at first, through my internship experiences and various Miami classes, I became interested in American studies.
"By the beginning of my junior year, I was taking core classes in the Miami Plan as well as classes of all different varieties and topics. I've always been able to explore what I really liked, and the desire and drive to be successful at Miami encompasses the whole student body. This creates a really good atmosphere, which makes me want to work hard."
Best Miami Experiences
"Some of my best experiences have been networking opportunities I gained from joining clubs and organizations here on campus. I'm a member of Sigma Pi Fraternity, the market research division Miami Business Enterprises, and UNICEF Club. I've also been involved with raising awareness for breast cancer.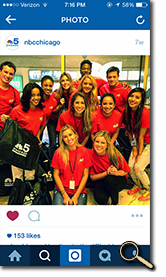 "It's my internship experiences that have really shaped what I want to study. My first was during the summer after my freshman year, when I joined a small Connecticut company called Sports Technologies. It sparked my interest in technology and led me to minoring in Information Systems. My second internship, which was last summer, was focused on media and consumerism at the NBC affiliate in Chicago. It gave me a new passion for sales, which I'd like to go into after I graduate.
"Kimberly Hamlin in American studies has been the professor who has enhanced my academic experiences the most. She began as my advisor and helped me pick the right concentration in my major. She encouraged me to take various classes, including in interactive media studies (IMS) because of my interest in technology.
"Miami has allowed me to have a really well-rounded education, allowing me to explore different career paths and opportunities. Just the opportunity to explore outside different areas was wonderful. I've been given all the necessary tools in order to be informed and make the decision that will most benefit me and my future."

Miami and the Liberal Arts
"When I started at Miami, I didn't know what I wanted to study. The liberal arts allowed me to explore different areas, so there was no pressure to pick a major right away. I didn't fall behind, and I'll be graduating on time, so even as a CAS student I've been given a chance to stand out even among the students in the Farmer School of Business!
"During my sophomore year I took an American studies class with Andrew Busch. That experience, along with others in that program, led me to a meeting with Dr. Hamlin in which I determined my area of concentration in Popular Culture, Media, and Consumerism. After being able to explore many options in the liberal arts, I've found my major to be the best choice for me."
Summer Internships in Connecticut and Chicago
"My two internships at Sports Technologies and NBC have allowed me to work for both a small start-up and a huge corporation. I feel motivated to start with a big company when I go into the workforce, but eventually I'd like to start my own small company and work with multiple departments.
"Sports Technologies builds fantasy sports applications for clients like the NFL, NHL, and Bleacher Report. I love sports and worked with this company three separate times with increased responsibility. I helped to maintain relationships with some of the big clients and did a lot of market research which involved examining different companies, their products, and the capabilities of their products.
"Most of the time I spent with the company, however, involved testing different games on various operating devices, such as iPad, iPhone, and computers. By using multiple operating systems, I looked for ways to improve the products and even had the opportunity to develop my own games, such as a fantasy golf game for the FedEx Cup!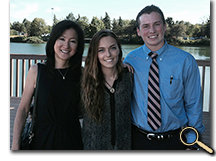 "Working in Chicago last summer at NBC gave me a feel for city life. I started as a researcher programming associate, doing qualitative data and maintaining the station programming schedule. I also did research for the sales team and, after working closely with them for a while, I asked my boss, Jody Bajor, to be officially placed with them so I could do more of the work that I was interested in. This is when I realized I actually love sales! At sales meetings I helped pitch clients about marketing partnership opportunities and also got to call potential new leads.
"One of my highlights at NBC was when I and one of the other interns found a potential client at the Marriott Hotel and were able to pursue them. I did the research, developed a presentation, and presented them a pitch to sell digital advertisements. It was a great experience.
"These two internships helped me discover my passion for digital media and sales. I went in not knowing what I wanted to do, but now I know how I want to start my career. I also had the opportunity to develop many relationships with people that I think will help me in the future."
Advice to Students
"Always explore your options. Miami provides good opportunities for that, so take a variety of classes — especially if you are undecided.
"Networking is also very important. It helps get your foot in the door and find a good way to stand out. Remember that your internship does not have to be exactly what you want to do. I've found that a lot of people learn what they do not want to do from their internship, so it's always a good learning experience.
"Start the process early and attend Miami's Career Fair. It may feel intimidating at first, but there are ample internship opportunities there. Just take advantage of various resources that you have here — you'll probably not have those resources after you graduate!"
[September 2015]