Seth Seward (Class of 2011)
American Studies major
minor in Management and Organizations
from Columbus, OH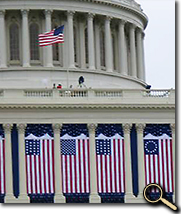 "Hi, I am Seth Seward and I am a senior American Studies major, with a minor in Management and Organizations. I recently chose the American Studies major because of the Difference and Diversity concentration.
"This concentration is broad-based in that it incorporates multiple academic disciplines. I have the chance to focus on and learn about all cultures that exist in the United States.
"With a degree in American Studies, I hope to venture into the field of politics. I feel that what I learn in American Studies will help me to understand the U.S. culture as a whole.
"I experienced American culture at its finest when I traveled to Washington, D.C. as a Presidential Classroom participant in the Media and Democracy Program, as well as for President Barack Obama's inauguration."
[October 2010]