Shauna Hanley (Class of 2003)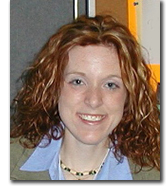 Shauna Hanley graduated in 2003 and earned her MA in History from the University of Virginia in 2004.

"After earning my undergraduate degree in American Studies from Miami University in May 2003, I went on to receive a Master's in History at the University of Virginia. The conventional approach taken to this discipline proved challenging.
"I had been trained by Miami's professors of American Studies to question traditional, simplified interpretations of our nation's past and present. I proved to be an incorrigible graduate student—I remained committed to examining history from that multidisciplinary perspective. I drew from my background in a number of academic departments to propose larger questions and explore uncharted waters.
"I feel confident that I have an expanded worldview that enables me to be an effective leader in this field. In addition, the American Studies program at Miami offered a number of opportunities for guided academic research. By taking advantage of these enriching pursuits, I am equipped to think independently, to engage with perplexing problems, and to draw my own conclusions from all available evidence.
"Simply put, American Studies was not just an enjoyable academic enterprise—it was a dialogue that I began in college that continues today."
[September 2010]