Tony Arnold (Class of 2005)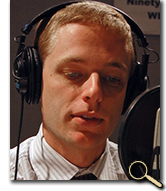 Tony Arnold graduated in May, 2005, and is a reporter with Chicago Public Radio.

Update: September 2010
"In one of my American Studies classes at Miami, I was asked to document the culture of every day American life. This project involved observing how people act, the city around them and how little decisions lead to big ones.
"Similarly, I now do this same thing as a reporter. Every day, I report on the events that make up modern America: politics, business, the legal process, the environment and everything in between.
"American Studies was the ideal major because it prepared me for a career in which I need to think analytically about American culture and communicate that message through clear and concise writing."
Original Conversation: 2006
"Now that I have graduated, one of the biggest things I probably overlooked as an undergrad in the American Studies program was the amount of career training in each of the classes. While writing, discussions, and analysis were often stressed in class, I didn't fully realize how they would help me in my career.
"As a young journalist, I am appreciating how the American Studies program has shaped so much of how I write, conduct interviews, and edit stories. The training has really helped me to think on my toes and pursue more of the underlying themes of the stories.
"I also firmly believe a major part of what makes the American Studies program a success is the professors who would take the time to address my concerns outside of class."