Francesca Witcher (Class of 2010)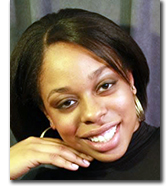 majors in Black World Studies and Journalism
minor in Political Science
"My experience in BWS greatly contributed to me finding my voice as an activist of gender, racial and social justice."
"The experience I had as a Black World Studies major plays an integral role in the job that I have today. In January 2011, I was hired as a national campus organizer at the Feminist Majority Foundation (FMF) based in Arlington, VA, a suburb of Washington, DC. I organize with students on college/university campuses around feminist and all social justice issues. Specifically, I organize in the Mid-Atlantic region and with Historically Black Colleges and Universities (HBCUs). My experience in BWS greatly contributed to me finding my voice as an activist of gender, racial and social justice.
"The skills, knowledge, and experiences I acquired as a BWS student have enabled me to do the work that I do as a campus organizer. As an organizer at FMF, I not only have to have an ability to bring people together around social justice issues, but I have to be able to conduct research, remain socially conscious about issues affecting women and people of color, and engage with people who are unlike myself. The professors and courses in BWS prepared me for all of that. For example, in my Intro to Black World Studies, African Americans in Education, African Americans in Sports, and Race and Ethnic Relations courses, I learned a great deal of history about the struggles and triumphs of oppressed people of color and how that history is reflective of the social and economic disparities that they currently face. In addition, the numerous discussions that I had around challenging topics such as gender, race, class, and differences in sexual orientation prepared me to talk about these subjects, as well as others, in a non-divisive and constructive manner to the students, professors, and other activists that I interact with everyday.
"Women and people of color face many pressing issues. Women continue to face the ongoing battle of obtaining reproductive justice, or the ability to choose and have control of their reproductive destiny, and people of color still face issues of economic and racial justice. With the current voter suppression laws enacted in many states across the country, affecting largely African American voters, unemployment disproportionately affecting people of color, and attacks on reproductive health services by many governors and state legislatures, there is still a lot of work to do in the civil rights and social justice movements.
"Because BWS helped me understand critical aspects of social justice, I learned to appreciate the works and service of great activists and scholars that have come before me, such as Fannie Lou Hamer, Dorothy Height, Ella Baker, W.E.B DuBois, Adam Clayton Powell Jr., and Malcolm X. This appreciation and understanding enabled me to realize that I have a duty, purpose and mission on this earth to continue moving towards equality for all people.
"Finally, I'd like to mention that BWS gave me access to many great professors of color, which played a huge role in my professional and personal development. I gained a tremendous amount of confidence and encouragement from these professors that I feel that I did not get elsewhere. It made me realize how important professors of color are to higher education. I hope that Miami continues to promote diversity because I firmly believe that without many of these professors, I, along with many other students of color, would not have made it without them."
[October 2011]