Na'eem Outler (Class of 2011)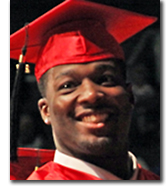 major in Black World Studies
from Woodbridge, VA
"My name is Na'eem Outler and I am a transfer student from Youngstown State University. Before coming to Miami I majored in psychology, but once I transferred I changed my major to Black World Studies (BWS). I feel this change served to be one of the best I could have ever made, because BWS taught me many different perspectives I was unaware of.
"On this journey I made at Miami, I met many influential people that helped shape my experience, such as an adviser from Learning Assistance who helped me adjust to transferring and made the whole process much easier for me.
"In my first BWS class, I met the director of Black World Studies and he helped me through my major as well as in many other ways, including an independent study course during my senior year. In this course, I researched black male athletes in college, which provided me with a new light to this thing I thought I knew everything about.
"Being a black male athlete at a predominantly white college is a hard thing to do but with the help of those I met on my journey and my passion on and off the field I was able to graduate with a degree in Black World Studies from Miami University and I am looking forward to continuing this journey and becoming successful."
"I want to share this quote I found during my independent study research that I felt to be very inspiring:"
"I have learned that success is to be measured not so much by the position that one has reached in life as by the obstacles which he has had to overcome while trying to succeed."
- Booker T. Washington
[December 2011]