Student Organizations
Association of Latin and American Students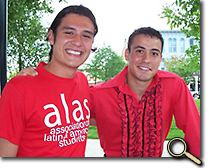 The Association of Latin and American Students (ALAS) provides information about upcoming activities involving the Latino community and the Miami University student body; members have opportunities to participate in volunteer and service activities in the Oxford area.
Portuguese Culture and Language Club
The Portuguese Culture and Language Club (PCLC) meets on Thursdays, 5:30- 6:30 pm @ 240 Irvin Hall, Newman Lounge. It is open to everyone interested in the Lusophone culture and language, as well as to anyone who would like to practice their conversational skills in Portuguese. Venha desfrutar da conversa!
Join us on Facebook [login required].