Jonathan Korte (Class of 2013)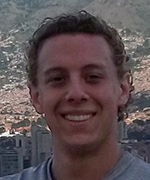 senior double major in Latin American Studies and Spanish
from Dayton, OH (where he attended Centerville High School)
studied abroad all of his junior year and recommends that all students study abroad
On Choosing Miami
"Both of my Parents went to Miami—they are a Miami merger. My older brother also went to Miami, so it was always on my radar. Once it came down to decide, I took a tour here, spent the night with a friend, and it just seemed like a perfect fit. You know, everyone always says that when you walk on a campus that you're going to go to it feels right. That's how it felt with Miami.
"Everyone here seems like they really have a dream. They have a direction, and they're going after it. Other places I went to it seemed like they were wandering, but Miami seems like it has a very motivated set of students. And there's a lot of history as well. It's a school that's recognized around the country as being one of the best."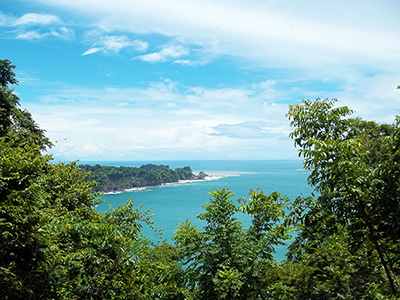 Costa Rican coastline
Central and South America Excursions
"I studied abroad for all of my junior year. I was in Costa Rica and I got to travel around Central and South America as well. I had been to Honduras the previous summer with a program through Miami. I was in Honduras for a month. My next trip was a yearlong trip to Costa Rica.
"It was great. I felt like it was the perfect amount of time to spend there. I got an opportunity to travel around the country. It gave me a really good command of the language. I would have been disappointed if I had left after a semester and not come out with fluency, so by the end of the trip I didn't feel like I was visiting the country, I was actually immersed there and I was actually living there.
"The program wasn't through Miami it was just approved through Miami, so I got to meet a lot of other students from around the country who share my interest in Spanish and Latin American studies, in addition the people there are really friendly. I really enjoyed it because Costa Rica is, relatively speaking, a very stable country, a very safe country, so it allowed me to go to places like Nicaragua, Panama, and Colombia which maybe aren't the best place to go for a whole year but to go for a weekend or two weeks, or however long, to experience those countries was nice."
Impact of Study Abroad
"It really has a profound affect on you as a person, as a whole—my political views, my religious views, just my philosophy on language changed. I think that's true for anyone who studies abroad, but when you go to a place where you see such drastic differences in the life of people there and the life of people here, seeing people living in cardboard boxes or landfills, versus coming back here, especially to a place like Miami, it's just such a huge difference.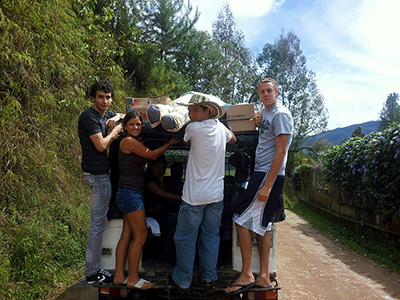 Jonathan Korte and friends catch a ride on the back of a truck.
"I guess I'm just much more of an easy person now, one that's very much ingrained in the culture there, very relaxed and happy people. Despite everything that they go through they're still very fun loving and welcoming, even if they don't have much to share they'll share everything with you. And secondly, seeing the things that people go through there, the struggles they face everyday, coming back here and the challenges that we face that were once such a big deal, whether it be something in your social life or your school work, you realize that's not that big of a deal, that no matter how bad your situation is that you're still blessed to be born here and have these opportunities than to be somewhere else."
Looking Ahead
"I'm graduating this December and I'm going to be working for a little bit and I'll be, hopefully, going to law school this upcoming August. I'm applying to the University of Cincinnati, the University of California-Berkeley, the University of Miami, and Florida, and then Harvard and Columbia."
Advice to Students Who Choose Miami
"The first one would be to study abroad. When I came into Miami I was pre-med. I had tunnel vision about just getting into med school. I feel like a lot of times when people are pre-med they've kind of been groomed that way, they're maybe good at science, or their families really want them to follow that path, but studying abroad in Honduras completely changed my perspective on what I wanted to do with my life. So my first one would be to study abroad, and maybe in a place you're not comfortable with, a place that really challenges you culturally and philosophically. Then from there, developing a good relationship with your professors, being outspoken in class and interacting with other students instead of just sitting there and passively absorbing information."
[August 2012]