Katie Arlinghaus (Class of 2013)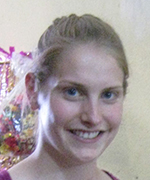 senior double major in Latin American Studies and Economics
conducted research in Mexico has part of the Undergraduate Summer Scholars Program

Culinary Excursions Abroad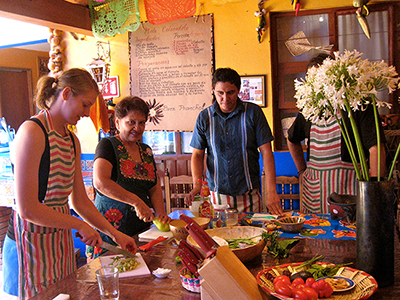 Katie Arlinghaus and others prepare a meal in Mexico.
"Through the Undergraduate Summer Scholars program I had the opportunity to spend a week and a half literally eating my way through Oaxaca City in southern Mexico.
"When I arrived it didn't go as planned. It was down season for many of their famous chefs who were actually in the U.S. But I found different chefs to work with and I took a cooking class a day. My research was about corn so everything was corn based."
"Every day I was able to take a different cooking class, during which I learned a multitude of cooking techniques and different ways to prepare traditional Oaxacan dishes from people who have been doing it this way all their lives.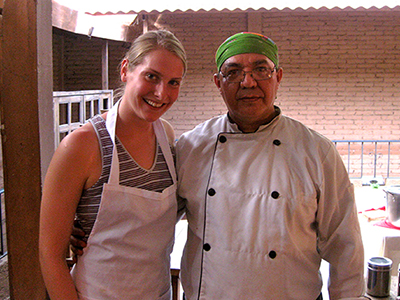 Katie Arlinghaus poses with chef.
"Through daily trips to local neighborhood markets to purchase fresh ingredients before each lesson, I didn't just learn about market culture but was able to experience it. I saw firsthand how yellow the chicken was (due to marigolds in chicken feed), was able to see corn being ground to make tortillas, and was able to hear the cries of proud, over-worked women selling their delicious, fresh tamales, all whilst enjoying a sticky, tangy-sweet mango. That doesn't happen in the classroom.
You just can't get that kind of experience in the classroom. It was just so much fun. Mundane textbooks become so much more interesting because you know what you're talking about. You don't have that experience unless you've been there."
[September 2012]