Rafaela Coelho (Class of 2014)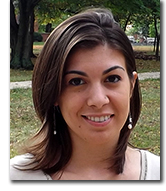 senior double major in Latin American, Latino/a & Caribbean Studies and Diplomacy & Global Politics
from Indianapolis, IN (formerly Brazil)
Former resident and Resident Assistant in Miami's Mosaic Living Learning Community
Vice President of Finance at Miami's multicultural sorority, Sigma Lambda Gamma
Why Miami?
"Miami was always on my list of schools I wanted to attend. Although I was also considering American University in Washington, DC, I wanted more of a liberal arts education. In addition, my mother is a mathematics professor here. I had spent my childhood in Indianapolis while she lived here in Oxford, so I wanted to be closer to family and be a part of Miami's great undergraduate program.
"During my first year I lived in the Mosaic Living Learning Community, or LLC, which is in Wells Hall. It focuses on diversity and individuality, and everyone took Interdisciplinary Studies 154, which focuses on diversity outcomes. The course was put together by Mary Jane Berman from the Center for American World Cultures, Vicka Bell-Robinson from the Office of Residence Life, and Yvania Garcia-Pusateri in the Office of Diversity Affairs.
"It made me appreciate the space that Miami creates for students—the environment that allows student creativity to individualize their Miami experience. I was able to develop my own through various extracurricular activities and interests that I wanted to pursue. This is the kind of environment that allowed me to get creative, and it also gave me the freedom to consider majors in Diplomacy and Global Politics, later adding Latin American and Caribbean Studies."
Best Miami Experiences
"My best experience started my first year when I joined the Mosaic Living Learning Community, a very small and inclusive community in Wells Hall that promotes the theme of cultural awareness and competency, inclusion, and unity through diversity. It brings in a tapestry of people in which we openly discuss issues like race, social class, stereotypes, social construct issues, and so on without feeling that we need to be careful about what we say and feel. Students in the LLC are challenged to rethink some things and reignite feelings for other things that they are truly passionate about.
"Living in the LLC was enjoyable especially for the diplomacy side of things, as I got to see through the lens of diversity as well as being a first-year student who didn't really have all of my opinions developed yet. That experience led me to work at the Center for American and World Cultures as a student assistant to help with different Miami-based global initiatives and programs like Global Rhythms, the Latin American and Caribbean Festival, and the Human Rights and Social Justice Fair.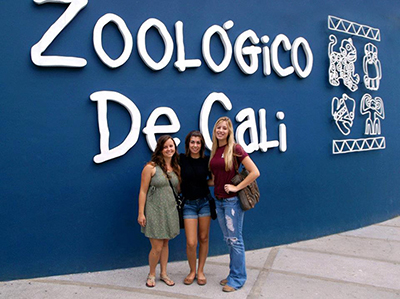 afaela Coelho and her friends enjoy the Cali Zoo.
"All of the Unidiversity Curriculum is based out of the Center for American and World Cultures. Yvania Garcia-Pusateri used to be a first-year advisor in Wells Hall, and she inspired me to apply for a Resident Assistant (RA) position in the Mosaic LLC, which gave me an opportunity to be directly involved in that community during my sophomore year.
"During my third year I did study abroad in Cali, Colombia, and now as a senior I am in Richard Hall with the Sorority LLC, where we plan various community initiatives. We have themes, goals, and learning outcomes that we want to reach, so we do a lot of planning of the types of programs and events that we want the students to get involved in throughout the year to get them to feel that they belong in that inclusive community. It's helped me realize my passion for working with students from various backgrounds, so I'm looking into a career in international education or student affairs based at a university."
Latin America, Multiculturalism, and Female Empowerment
"For my study abroad experience during my third year, I wanted to go to Latin America so I could take more classes in my field. I was looking at South America, excluding Brazil because I'm originally from there. I talked to different students who'd gone on study abroad, and they told me to just go wherever I felt a calling. I had an attraction towards Colombia and chose Cali because it's one of the nicer cities and has a good university.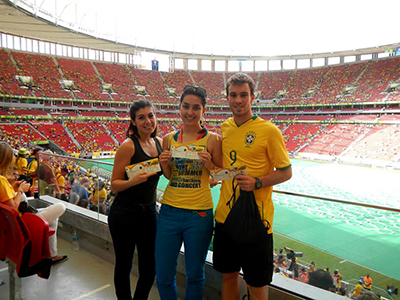 Rafaela Coelho and friends pose at the soccer stadium.
"Courses in Colombia are structured differently than in the U.S. You are encouraged to travel and see what you're learning; I was able to plan trips to Bogotá, Medellin, Pasto, San Andrés, and Cartagena, all in one semester. Colombia is a great country to improve your Spanish because it doesn't have different dialects that are harder to pick up on. You don't come back from Colombia speaking a totally different dialect—it's kind of like English from the Midwest. It's an adaptable style.
"Colombia helped to reinforce my passion for Latin America, but actually my experiences at Miami—specifically living and working in the Mosaic LLC and joining a multicultural sorority—have probably shaped what I want to do more. I was the Vice President of New Member Education of the Pi Gamma chapter of Sigma Lambda Gamma, which is the only multicultural sorority on campus. There are members who have parents from Tanzania and Kenya, or from Ghana and Sweden. We also have members from Ohio with black and Korean heritage. Everyone is very different, but we're unified by our mission, which is focused on women empowerment and strength through diversity. It's related to everything that I am involved in already and fits quite well with that.
I'd always wanted something that was more about women empowerment, women working together to achieve a common goal. I feel really strongly about this, especially when it involves women that have come from all different backgrounds to bring new perspectives. In a student organization you have a lot more room to effect change, have your voice heard, and be creative. We are all leaders in the organization, and because it's so small and intimate we are really able to have a lot of personal development while supporting each other. We get involved in the community and collaborate with different organizations, but we also do a lot of sisterhood bonding, which is intensified due to the small size of our sorority. The chapter at Miami was established in 2007, and we're very close with our alumni."
Miami and Liberal Arts Education
"There's definitely an advantage in liberal arts education in that you have more room to explore, which is necessary. I feel that if I had not been given the opportunity to have a double major under the College of Arts and Science, I probably wouldn't have picked up my second major in Latin American Studies, which includes some of my favorite courses at Miami.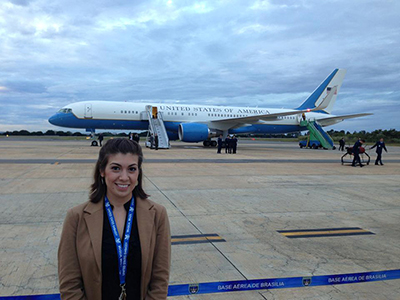 Rafaela Coelho stands on the tarmac during her internship at the State Department.
"I took some political science courses focused on Latin America with Dr. Walter Vanderbush, and there was a Brazilian Culture Through Popular Music course, which was fun and informative at the same time. And my two capstone courses, POL 471 (The International System) and LAS 410 (Child and Nation in Latin America), are also favorites. I would never have discovered these courses without liberal arts.
"A liberal arts institution like Miami also allows me to develop and take my own independent study course. Mine was a reflection and analysis on my internship at the State Department. I don't think that people talk about independent studies enough! If you have some questions in mind, it's good to develop and analyze them, or else you're just going to constantly be thinking about them. A great example of this is study abroad or an internship—taking an independent study course right after you complete such a program helps you get the most out of that unique, possibly life-changing experience.
"Liberal arts majors include so many different options: science, humanities, history, social sciences, politics, regional studies, religion—I mean, the list goes on. It's smarter to choose what you have a passion for than what you have a talent for, because you may be good at your talent but it's not necessarily what you dream about at night. If you're concerned that maybe your passion is in a different major, liberal arts makes it ten times easier for you to explore that interest of yours. You can end up doing a minor or a thematic sequence in a different area, or you could switch your major altogether and still have a lot of the requirements taken care of—because, chances are, it's all found under the College of Arts and Science!
"Study abroad is one of the things I would recommend the most because it gives you a broader perspective of things. You realize that your country is not the only country in the world. Everything is connected, and what affects me affects you and all of us. Go out and do something different!"
[September 2013]