Neuroscience Graduate (MS, PhD) Programs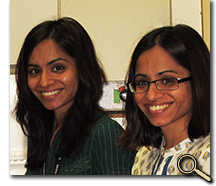 A mission of the Center for Neuroscience and Behavior is to provide graduate students with excellent academic preparation and research experience and to train scientists who are independent thinkers, creative in their research, and broadly educated in neuroscience.
Graduate students work closely with faculty who assist in planning programs of study, research training in the laboratory, and employment opportunities. Graduates from this program are successful at acquiring faculty and research positions in colleges and universities, as well as employment in industry, research laboratories, state and national government agencies, and private firms.
All graduate students in Biology are admitted with either a teaching or research assistantship.
Tuition remission, academic and summer stipends are provided.
Ph.D. students have the opportunity to teach a one semester 100-level lecture course during their training.
All students in the Department of Biology receive a graduate stipend that includes remission of instructional fees and out-of-state surcharge. Graduate students are either assigned to teach laboratory sections associated with our formal undergraduate courses or may assist faculty members in research activities. Research opportunities are numerous and include access to state-of-the-art equipment offered through the:
Applying
Students can apply to the Department of Biology Neuroscience graduate program. Applicants are encouraged to apply early to be considered for scholarships and awards in addition to a teaching or research assistantship. However, it is never too late to apply.
A completed application includes:
3 letters of recommendation
GRE scores
statement of research interests
official transcripts
In order to facilitate the admission process, applicants should identify 2-3 potential advisors, but must identify at least 1 potential advisor in their personal statement. Applicants are encouraged to contact potential advisor(s) for additional information regarding their research programs. Review of applications begins in early February.