Student Spotlight
Lindsey McCready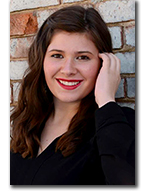 (Class of 2019)
[Amicus Curiae Pre-Law Society] brings in key people from the community to talk to its 50 members at bimonthly meetings: judges, professors, and practicing attorneys in all different areas of the law. It's very cool. Being in Amicus has exposed me to a lot of different ways that people practice the law — it's not just as an attorney! I've met people who work in law-related businesses and people who use their law degrees in consulting and other services that you might not expect.

See what Lindsey had to say about her DC internship and other experiences with the Inside Washington program.

Ellen Florek
(Class of 2019)
For my future career, I've chosen the rather niche field of special education advocacy law. By fusing my Political Science major with my two minors, I feel that I have been able to harmoniously combine all of my interests together into a clear path forward.

See what Ellen had to say about studying abroad and the courses that inspired her.

Shannon LaGassa
(Class of 2016)
Some of the most important people at Miami have been my incredible teachers and mentors. I took the Intro to Law pre-law class my freshman year with Maria Vitullo, the director of the Pre-Law Program…Maria's class gives a great introduction to law as well as some great information about how to get into law school.

Read what Shannon had to say about her extracurricular activities at Miami and her internship with a local law firm.

Lauren Johnston
(Class of 2016)
My favorite part of Miami would definitely have to be the professors. It's a very unique experience to be able to sit in a classroom and have a professor know your name. Being able to talk with them frequently and having them take time out of their day to meet with you at office hours and schedule all this time with you to make sure you understand the concepts—those have definitely been my favorite aspects about Miami.

Read what Lauren had to say about her involvement with the pre-law society and her study-abroad experience in Africa.

Daniel Moler
(Class of 2016)
Pre-Law 101 has been one of my favorite classes thus far, and it's ideal for anyone that is thinking of attending law school. Maria Vitullo, the pre-law director, is extremely knowledgeable and will bend over backwards to assist you in any manner that she can. Attorneys visited our class from all sorts of firms, big and small, private and public, to talk about what they do. Two judges also came in, which led to my opportunity to shadow them.

Read what Daniel had to say about his internship and job shadowing experiences.

Paige Melton
(Class of 2015)
I lived in the Pre-Law Living Learning Community (LLC) in Stanton Hall. At that point I wasn't sure if I wanted to go into law…Being exposed to it in the LLC made me want to go to law school even more, so it's my first priority now.

Read what Paige had to say about her Public Administration major and involvement in the Amicus Curiae pre-law society.

Jonathan Fox
(Class of 2015)
Soon after I got involved in the Pre-Law Program, I was given a mentor, Martin Shepherd…Throughout my college career, he connected me with Miami alumni and professionals who worked in Ohio and in Washington, DC, which enabled me to identify possible legal careers I may be interested in. Over time, our mentor-mentee relationship has evolved into a friendship.

Read what Jonathan had to say about the Inside Washington program and his internships on Capitol Hill.

Shannon O'Keefe
(Class of 2015)
After I changed my major to English literature and got involved in Miami's Pre-Law Program, I learned about the law internship in the Philippines two days before the application deadline. I had already fallen in love with traveling, I'd always wanted to go to Asia, and I had heard about the law firm, White & Case, that was offering the internship. I rushed to get all of my materials together to Maria Vitullo before the deadline, and she was very helpful. I eventually made it through three interviews, and it was worth it!

Read what Shannon had to say about her study abroad in Tanzania and internship in the Philippines.