Jonathan Fox (Class of 2015)
senior Pre-Law student with Public Administration major
from Hamilton, OH
received a Sidley Pre-law Scholarship to help him prepare for and apply to law schools
interned for Ohio Senator Sherrod Brown in Cincinnati and Congresswoman Joyce Beatty
participated in Miami's Inside Washington Program (2013)
Overall, my experience balancing work, school, and internships has really prepared me to handle a lot of tasks at once. Throughout my undergraduate career, I've improved my analytical, writing, and speaking skills through academics and experiential opportunities. Miami does a great job of preparing its students to succeed in the future.

Why Miami?
"I always liked Miami's proximity to my hometown, Hamilton. Some students are ready to get out of their hometown, but I never felt that way about Miami. Growing up about twenty minutes south of Oxford, I always came up to watch the sports games with my Dad. We often saw Miami stars like Wally Szczerbiak and Ben Roethlisberger play. Those experiences were really fun, and they made me think, why not Miami?
"I love the Miami tradition and the student-faculty relationship here. These traditions revolving around the Miami spirit may seem a bit silly to the average outsider, but they bring the community together, and I really enjoy it. I've been able to build many relationships with professors since my freshman year. The political science department, where I selected my major in public administration, is amazing. I've had the opportunity to network and meet a lot of people related to my career field in law and government through internships and networking.
"Coming out of high school, you often don't really know what to expect in college. I was lucky because I was able to get acclimated to Miami beforehand as a participant of the Miami Bridges program. This overnight visiting program takes an array of students from underrepresented backgrounds and puts them in the college environment. We sat in on classes and connected with mentors. It helped me adjust to becoming a college student and finding my path at Miami.
"Because of Bridges, I hit the ground running my first year. My mindset was that college is a big life investment, so I need to get as much out of it as I can. I didn't have a lot of resources growing up, so I knew the first thing I would have to do is get a campus job, and that really helped me later on because it taught me how to manage my time. Overall, my experience balancing work, school, and internships has really prepared me to handle a lot of tasks at once. Throughout my undergraduate career, I've improved my analytical, writing, and speaking skills through academics and experiential opportunities. Miami does a great job of preparing its students to succeed in the future."
Best Miami Experiences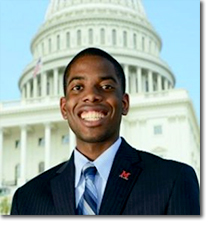 "I have always wanted to be a lawyer, so I got started in Miami's Pre-Law Program during my first year. Many of the experiences I've had since then, such as some interning with U.S. senators and doing the Inside Washington program, have confirmed that this was best path for me.
"Many of my best experiences at Miami involve the people who have influenced me the most. One of the people who mentored me my freshman year, who I still work for today, is Randi Thomas, the Director of Institutional Relations at Miami. He runs the Government Relations Network to help students get involved in student government and beyond, and this really sparked my interest in government relations and public service.
"Soon after I got involved in the Pre-Law Program, I was given a mentor, Martin Shepherd. Not only did he go to Miami, but he also went to my high school. He's now a lawyer, and I've been in close contact with him since my freshman year. Being from my hometown, Martin knew some of the challenges I would face in college and beyond. Throughout my college career, he connected me with Miami alumni and professionals who worked in Ohio and in Washington, DC, which enabled me to identify possible legal careers I may be interested in. Over time, our mentor-mentee relationship has evolved into a friendship.
"Early last summer, I also met Terence Moore, who is a well-known Miami alumnus and sports reporter on ESPN, CNN, and other networks. I was walking out of work one day, and although I didn't recognize him, I said hi just to be friendly. Being the journalist he is, he had an inquisitive mindset and started asking me a lot of questions, like who I was, what I did, where I'm from. I began to tell him my background, and it turned into a 20-minute conversation! At the time I had no idea who I was talking to at all, but afterwards, I went home, looked him up, and connected with him on LinkedIn. Two weeks later, he was back in town to teach a hybrid course, and we had dinner. He has a lot of experience in sports journalism and is a great connection to have."
Miami and the Liberal Arts
"The liberal arts give you a much broader perspective than more linear programs. Taking a variety of different classes, doing an internship you may not have considered before, talking to mentors, and participating in various workshops and study-away programs are the best ways to figure out what you want to do. I took some classes in international studies, which complements my field of study well. The humanities and social sciences overlap in many ways and can help you at different points in time. You get different viewpoints and learn how to deal with workplace problems or clients. Having a background in multiple subject areas really comes in handy.
"My favorite class at Miami so far has been political economy. I liked the focus of that course concerning the economic implications of political decisions and vice versa. Many of the authors that we read had competing views, and this was interesting to analyze. It helped me decide what I believe in terms of economic theory."
Law Experience: From Cincinnati to Capitol Hill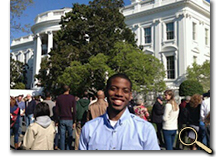 "In the fall of my sophomore year, I did a part-time internship in Cincinnati for U.S. Senator Sherrod Brown. My friend and I carpooled down there, where he interned for Senator Rob Portman. I worked with the constituent liaison in Senator Brown's office and dealt with constituent casework involving issues such as veterans' benefits, Medicare, and Medicaid. This internship was my first opportunity to understand how a congressional office functions in the United States government. It was a very positive, learning experience.
"This encouraged me to participate in the Inside Washington program the following semester, in the spring of 2013. It's a semester-long experience in DC in which you do a speaker circuit for 5 weeks and then a 2½-month internship. Fortunately for our cohort, we were able to attend Presidential Inauguration that January.
"One of the best parts of Inside Washington was the speaker series. Around DC we listened to different politicians, lawyers, journalists, lobbyists, and other individuals around the federal government. There was a wide variety of speakers on different issues and topics. Each speaker had a unique approach to the conversation; some would lecture and others would simply answer questions we had. Mike Summers, a Miami grad and the Chief of Staff for Speaker Boehner, fell into the latter category as he spoke candidly to us in answering questions during our meeting.
"After completing Inside Washington, I did some networking and was able to get a paid internship through the Congressional Black Caucus Foundation that summer on Capitol Hill with Congresswoman Joyce Beatty, where I got to delve into the legislative process. It was an amazing experience and opportunity. Through this experience, I found out about a scholarship program that the law firm of Sidley Austin provides called the Sidley Pre-law Scholars, which helps ease the financial burden of the law school application process by covering the costs of LSAT prep classes and other fees. I applied and got accepted in the spring of 2014. This summer, after I graduate from Miami, I'll get to attend a pre-law seminar at their headquarters in Chicago. This seminar will give me experience in writing briefs, working on cases, and so on. It'll also allow me an opportunity to mingle with other Sidley Scholars and lawyers at the firm."
Advice to Students
"Follow your passion, no matter what you want to do, and learn to make the adjustments you need. You may face a lot of challenges in college, but adapting as you go forward will help you have an amazing experience. You have to be constantly learning new things, reading books and news every day, and staying current. It's always good to constantly look to gain new skills. You never know what your next job might be and what it might require."
[September 2014]