Shannon O'Keefe (Class of 2015)
senior Pre-Law student with English/Literature major
from Mason, OH
first visited Miami as a high school student in the Junior Scholars Program
tutored English in Tanzania and interned at an international law firm in the Philippines
With the well-rounded education I've gotten at Miami, I'm going to be so much better prepared for the future. Besides education and English, I've taken a lot of classes that I never thought I'd be interested in, such as botany, geology, and history, and I ended up gaining new interests.

Why Miami?
"I started off as an English education major because Miami has one of the best education programs in the country, and from the time I was really young, I knew I wanted to come here. In high school I heard about Miami's Junior Scholars program, which allowed me to come to Oxford for 6 weeks, living on campus and taking college classes with real college students. Miami was the school of my dreams, and from there the deal was kind of sealed for me.
"Transitioning here from high school was really easy. Since I'd spent some time here before, in high school, I always felt like I was a step ahead of everybody else. I moved into a triple with two of my friends from the Junior Scholars program, and it was really fun. My hometown, Mason, is only 45 minutes away, so my parents were always just right there if I needed them, which made me all the more comfortable.
"What I didn't really expect was how much guidance and support I would get from Miami. I was already halfway through my junior year here when I realized that I needed to change my major from education to English Literature, with the hopes of going to law school. Coming to this decision was a bit of a mini midlife crisis for me. My advisor in teacher education, Professor Tom Romano, has been one of my biggest influences at Miami, and he taught EDT 427, which was the class where I learned to become more confident and expressive in class. I was afraid he'd be disappointed when I told him my plans to change my major to English in the College of Arts and Science. On the contrary, he was really happy for me, which is exactly the kind of support that I needed."
Best Miami Experiences
"My mom always told me that I'd make a good lawyer—maybe because I'm good at arguing! The more I thought about it, the more I felt that law was going to be the place for me, since with so many different specialties there is something for everyone. You can go into tax law, patent law, constitutional law, criminal law, and so on. It's all about reading and analyzing and interpreting and noticing those small details, and my English classes have really prepared me for that.
"Luckily, my education courses crossed over to English literature and pre-law really well. I'll be able to graduate on time, but to be honest, I'm actually really sad about that, because I don't want to leave Miami, ever!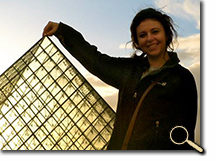 "My study abroad experiences as a Miami student have been incredible. When I was younger I'd traveled a little bit, but nowhere beyond North America. I had never seen cultures that were really, really different. When I got to Miami, I didn't think I would get involved in study abroad that much, but it started with the Luxembourg program, in which I ended up falling in love with Europe over that semester, and as soon as I came back to the States I went off again to spend 3 weeks in Tanzania. Then, this past summer, I was in the Philippines for a 6-week internship at White & Case, an international law firm.
"All of this was a big change for me. Going to Europe was a baby step from leaving the United States, but it was Tanzania that really opened my mind and eyes to the world."
Miami and Liberal Arts Education
"With the well-rounded education I've gotten at Miami, I'm going to be so much better prepared for the future. Besides education and English, I've taken a lot of classes that I never thought I'd be interested in, such as botany, geology, and history, and I ended up gaining new interests.
"Liberal arts is all about opening your eyes to new possibilities, and Miami really does that. They don't want you to be single-minded or to have tunnel vision when it comes to what you are capable of, and that's something that I can take with me past college.
"I've always loved English, my entire life. I've spent my whole life reading and writing. At Miami I was looking for a major that would help me look at my reading and see beyond what's written on the page. The professors here have really helped me do that. One of the things that's so wonderful about being an English major is being able to apply my skills everywhere. I can problem-solve, I can think outside the box, I can interpret, and I can communicate effectively. These are things that every person needs to learn in order to do well in the world."
Study Abroad in Tanzania and Internship in the Philippines
"I learned about the Tanzania trip through a group called GIVE, Growth International Volunteer Excursions, which provides information about volunteer opportunities abroad. I had always wanted to go to Africa, but I just didn't know when I could do it, or if it was even possible. It was sort of a dream that was, 'I'll do this when I have money and time,' and it ended up being a life-changing experience, maybe the most life-changing experience that I've had in my 21 years.
"While in Tanzania I spent two weeks on an island called Zanzibar, just off the coast, where I helped to build houses and schools to improve the infrastructure of a small town. When people think of Africa, there's often a very general idea that there's a lot of poverty and everything's broken down, but the entire place was beautiful and fascinating to me.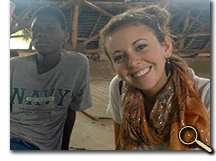 "I was also able to tutor students at local schools in English, which was really exciting. At the time, I was still passionate about my education major, and I got to sit down with the children in nice, modern facilities to conduct the lessons. This was during the month of Ramadan, which means the students couldn't eat or drink anything during the daytime, but they wanted to learn English so badly that they still arrived every day for 8 hours a day to study. They were that passionate about it! I loved every minute of the experience, and if I could go back, I would.
"After I changed my major to English literature and got involved in Miami's Pre-Law Program, I learned about the law internship in the Philippines two days before the application deadline. I had already fallen in love with traveling, I'd always wanted to go to Asia, and I had heard about the law firm, White & Case, that was offering the internship. I rushed to get all of my materials together to Maria Vitullo before the deadline, and she was very helpful. I eventually made it through three interviews, and it was worth it!
"White & Case is a top-10 law firm with offices in 39 countries throughout the world, including Manila. My internship was focused more on the background, the behind-the-scenes of how such a large organization like this is run. I spent two weeks in the Finance Department, which included billing, accounts payable, and accounts receivable, and then I spent another two weeks in their Compliance and New Business department, where they run detailed conflict searches on new matters for the firm all over the world. Finally, I spent a week in Marketing and Knowledge. All of this was something most people—even lawyers!—don't get to see, and it's important to understand how a law firm works. It was a really unique opportunity for me.
"These two study abroad experiences have made me a lot more tolerant and understanding of other people. Growing up in a small conservative town in Ohio had given me only a limited view of things in the world, but I got to see beyond that, and now when I meet people, I understand that there might be a cultural difference between us. That, I think, makes me more open-minded."
Advice to Miami Students
"As a student, the important thing is to not be scared if you don't know exactly what you want. It may look like a lot of people here have everything figured out, but that is not necessarily the case. It simply takes longer for some people than it does for others. Some people have known what they want to do since they were 5 years old, and others like me switch halfway through their junior year. When you come into college you don't have to decide your major and career right away; if you start having doubts, you may really panic because you think you can't go back to change your mind.
"However, there are so many resources here at Miami to help you figure out what it is you want to do, and just having a liberal arts education helps with that. It's good to talk to people in different departments about your choices. There's always a lot of support, such as Career Services, which really helps with résumé building.
"On top of that, there's study abroad. I really believe that it's a great experience that people need to have in their lives, especially as they're growing up and about to enter the real world. I know that 40% of students at Miami participate in study abroad before they graduate, and because Miami offers programs in 106 countries, there's something for everybody. If you're interested in a program and they don't have it yet, Miami will do everything they can to help you get to where you want to go, even if it's through another school or an outside program.
"I never thought that study abroad would change me so much, but it really, really has, and I know I'm going to be a traveler for the rest of my life!"
[August 2014]