Rowland Taylor (Class of 2017)
senior Individualized Studies major
self-designed Interdisciplinary Cultural Studies major incorporates elements of anthropology, history, philosophy, psychology, and English
from Bay Village, OH
currently learning to play the shakuhachi, a Japanese flute

I would advise all students to develop some sort of relationship with faculty members here at Miami. They are a great resource beyond being your professors, they can advise you on life at college and after, and you'll find they are a great resource for finding the extraordinary amount of interesting opportunities offered at Miami.


Why Miami?
"Miami had been on my radar ever since I visited the campus while still in high school. I decided to transfer here after my freshman year at Cleveland State, where I was working on improving my GPA. I chose Miami not only because of its strong academic focus, which was evident in the advertising, but also because of its smaller size, in comparison to other schools I was considering.
"As an incoming transfer sophomore, I was undecided on a major. I had declared as an English major back at Cleveland State but went back to undecided because I've always been interested in a lot of different things. Miami's Western Program was my introduction to the idea of being able to design a major by focusing on integrating various disciplines.
"For me, that's really what it's all about—being able to study something like physics while also studying anthropology, and so on. Since I was already beginning to think in an interdisciplinary way on my own, the Western Program seemed like a great fit. I just didn't think I could study just one major and fulfill my academic goals in 4 years, but Western has given me a way to accomplish that."
Best Miami Experiences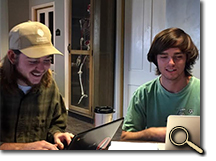 "Everyone in the Western Program community—advisors, professors, and students—is great. We all feel like we are part of something different at Miami. There's a lot of support and cool opportunities made available to us, including various study abroad trips, self-guided courses, community dinners, and more. So many people in the community are willing to give advice, converse, and share with each other.
"A lot of Western students will hang out and study in the student center in Peabody Hall, also referred to as 39°84° West. I began working there this year, and it has been a great experience. Professors and other faculty visit often to check in with students and discuss topics other than class, so the space has become really important for a lot of people. The entire idea for my senior project was conceived in 39°84° while discussing my area of interests with other students.
"Western alumni also visit Peabody's student center, which gives students the opportunity to converse with someone who has graduated from the program and begun their professional lives.
"During the first semester of my sophomore year, while I was still an undecided major, I went to a lecture arranged by Daniel Prior, associate professor of history. The lecture was given by Steve Farmer from Stanford University about neurobiology and big history (history from the big-bang and forwards). What he and his team were doing was looking at cultures and early written languages, like Sanskrit, and mapping changes in religions and cultures and languages. His argument was that although Mesoamerica had no contact with the Eurasian continent at the time, the region showed the same kind of growth in terms of culture, religion, and language for both written and spoken language.
"Dr. Farmer was discussing that an understanding of history must be preceded by an understanding of biology. This really excited me, because I was beginning to see interdisciplinary connections in my own studies. I was interested by this interplay between history and neurobiology, but I didn't know how to approach the subject with a singular disciplinary major. I waited around after the lecture to get a chance to speak with Dr. Farmer and Dr. Prior, and we ended going out to dinner and having a great conversation about our academic careers and studies.
"During that dinner I told them that I was interested in studying neurobiology and history but still had undecided major status, so Dr. Prior quickly relayed me to the Western Program and assured me that it would fit my interests perfectly. He gave me contact information for a professor he knew there, Kevin Armitage, who I met with that very next week to declare my Individualized Studies major."
Miami and Liberal Arts Education
"I'm looking at becoming a teacher right now, and I'll be an undergraduate assistant for a Western class next semester. I think being able to work with professors one-on-one to discuss not only the content of classes but also the classes as a whole themselves has been a good opportunity to see behind the scenes of teaching.
"Western's community aspect focuses on learning how to work with different kinds of people, which is a key takeaway from the liberal arts. One of our Western courses is called Interdisciplinary Synthesis and Action [WST 341], which requires you to work on one big project in groups to develop its different parts. For me, this class was a great representative of the way the liberal arts is about more than just the project—you also actively learn about working in groups and diverse kinds of thinking, from start to finish."
Designing an Individualized Studies Major
"Most people attend college today in order to secure a job or career, but my goals for college were exploring existence, perception, and reality. I expected to find answers through the university, and I don't think I would have pursued this interest as fervently without the Western Program.
"My Individualized Studies major is called Interdisciplinary Cultural Studies, and I designed it by incorporating elements of anthropology, history, philosophy, psychology, and English. My course load gives me the ability to obtain the skills necessary to holistically study culture, which is how humans exist and perceive reality. It is helping me to develop my abstract analytical, critical thinking, and research skills.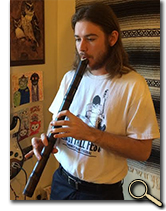 "Two courses stand out in my process for designing my major, ATH 175 [Peoples of the World] and PSY 210 [Psychology Across Cultures]. They are both culture-based courses of their respective disciplines, and both have provided me with a vocabulary set important to discussing and studying culture sufficient enough for my major. I realized that these courses were enough for me to move on to other disciplines to continue my exploration of culture.
"Another influential course was Art and Politics [WST 322 - Developing Interdisciplinary Projects: Art and Politics of Representation], a sociology-oriented course taught by Dr. Jacqueline Daugherty that I took last semester. She's a great professor who really knows her stuff. Next semester I'll be working as an undergraduate assistant (UA) in her class, which pushed me to conduct great academic research. It was the first time where I actually enjoyed writing a 20-page paper and could have written more! By pushing us to actually find good sources and put together a step-by-step piece, Jacque was really helpful.
"All these courses have been culminating into my final senior project, where I'm studying Zen Buddhism and working towards a general explanation for an audience of what Zen is—a philosophy or a religion. I'm also learning to play the shakuhachi, which is a Japanese flute that is traditionally used by practitioners of Zen.
"I've been putting together a music album as the creative portion of this project. I'm going to write on how I was influenced to create these specific melodies, and as I go through this process I've been looking at other people in the Western canon of music who have been influenced by Zen, including musicians like David Bowie and John Cage. And although I haven't taken any specific courses on Zen, the various Miami courses I've taken have taught me how to research and think critically. I've been able to combine many different disciplines for my senior project."
Advice to Students
"Think big, and think diverse. If you're an Individualized Studies major, your final goal is your senior project, which may represent the end of your academic career if you don't go on to graduate school. When you design your major, remember that it generally must consist of 24 credit hours. That's essentially what your major is, and you can take all kinds of classes from that point—just as long as they string along somehow. They can and should be very diverse, but they don't necessarily have to specifically inform your senior project.
"I would advise all students to develop some sort of relationship with faculty members here at Miami. They are a great resource beyond being your professors, they can advise you on life at college and after, and you'll find they are a great resource for finding the extraordinary amount of interesting opportunities offered at Miami.
"I wouldn't have known about the Western Program without asking! I also wouldn't have known about specific courses I've taken or been satisfied as a student without the help of a number of professors, advisors, and managers in Western."
[October 2016]