Dr. Roxanne Ornelas
Dr. Ornelas is an Assistant Professor with a joint appointment in the Women's, Gender, and Sexuality Studies Program and the Department of Geography. She also holds Affiliate Faculty status in the Institute for the Environment and Sustainability. She teaches on Miami's Oxford campus.

My research and participation in the field continues to inform my teaching in a way that brings real-world issues to life in my classroom.

"My research interests in the geographies of indigenous peoples, environmental justice, and human rights have driven my scholarly work for over a decade. In addition to my work that endeavors to bridge understandings across cultural divides for the protection of the sacred lands of indigenous peoples, I have ongoing research and public collaboration with the Indigenous Women's Leadership Project ('the Project') an undertaking I initiated in 2007.
"My work with the Project takes my interest in sacred lands a step further by focusing on the ceremonies of indigenous women that are related to the care and protection of water. Throughout history, it has generally been the role of indigenous women to protect and conduct ceremonies for the health of water resources. As a result of my work with the Project, I have presented my research and participated in the annual Environmental Justice Summit and Water Ceremony that is held each year in the Twin Cities in Minnesota and I recently walked 200 miles with the eastern group of the Mother Earth Water Walk to raise awareness about the poor condition of our national waters.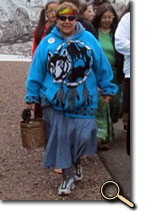 "The Mother Earth Water Walk is an ambitious undertaking organized by Josephine Mandamin, an Anishinawbe grandmother from Thunder Bay in Canada. The annual Water Walks began in 2003 to raise awareness about the impaired waters in the Great Lakes region. Josephine has now led 8 walks including the entirety of each of the Great Lakes, the St. Lawrence River, and now the cross continental/international water walk that began in April and ended in mid-June. In 2011, coordinated groups of walkers left from the four directions of the west, south, east, and north of the United States and Canada. The west began in Aberdeen, WA on April 10th, the south in Gulfport, MS on April 20th, the east in Bangor, ME on May 7th, and the north in Churchill, Manitoba on May 21st. All groups converged at the Bad River Indian Reservation in Wisconsin on the weekend of June 10th for an international water blessing and ceremony.
"My research and participation in the field continues to inform my teaching in a way that brings real-world issues to life in my classroom. I have enormous gratitude for the wisdom of indigenous elders and others who have shared their spirit and lessons with me over the years. They continue to inspire me to do my best work yet for the protection of our environment."
[October 2011]