Dr. Shannon Payne (Class of 1999)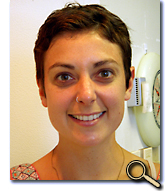 Dr. Payne majored in English/Literature at Miami, with a minor in Women's Studies. She earned a Ph.D. at the University of Massachusetts-Amherst in 2008. She is currently a Postdoctoral Fellow at Tulane University. Her primary research interest is contemporary issues in poverty and homelessness.

Women Studies is everywhere in what I do.

"When I reflect on my experiences at Miami, I realize that the Women's Studies Program provided me with a safe space to become myself, and to voice that self. In my first semester, I took an introductory WMS class that changed every class I took thereafter. In that course, a fellow student voiced her opinion that our society honors nuclear families to the exclusion of less traditional families. I was interested in her research, and did some investigating myself. I even wrote a letter to my minister explaining my concerns. The act of writing that letter, for me, made it clear (for the first time!) that what I did—and how I did it—mattered.
"At Miami, my professors challenged me to think and act critically and self-reflectively. It was a gift in many ways—I began to think and act like it mattered, and in the process, I began to matter. Ten years later, they are still my role models—now as a teacher, but always as a person in the world trying to be a thoughtful citizen, friend, sister, and daughter.
"I think the big secret that Women's Studies students figure out is that it's important to claim your education. Even if it feels like a stretch at first, your education is your own. While grades are your currency right now, they won't be for long. Everything about Miami is a resource. If you're lucky, your classmates may one day be wonderful contacts, spread across the country or even the world. And if you're lucky, you'll find that the most challenging disagreements and relationships work for you too.
"Women's Studies gave me so many different ways of being with other people—in conflict and in solidarity, sometimes both—even though it wasn't always easy to sit through those experiences. As a member of the Association for Women Students, we had disagreements about what our image should be. We had 'actions' that didn't work. We had meetings with few attendees. In Women's Studies classes, I supported ideas and ways of living that I couldn't vocally support outside the classroom. But because of Women's Studies, I got involved in Take Back the Night rallies and speak-outs against eating disorders, and witnessed their power, as so many other women do. In those closed rooms, women took risks to share private shame, and sharing it transformed it into something else, maybe compassion, but certainly a public outcry condemning violence against women. It amazed me that so much of this transformation could happen as we witnessed each other, in silence.
"Women's Studies also encouraged me to become a vocal advocate in campus groups. I taught students—including male students—how to perform a self-breast examination using a silicone model. I remember always feeling nervous taking part in these things, but I think that was because I cared. If speaking out felt like a risk, it probably was, and although it may have felt embarrassing, it also felt important.
"Women's Studies encouraged me to claim my education, and to claim my life, in ways that I hadn't ever thought possible before. It may just sound like a Second-Wave cliché, but in those years, the personal became political. I do remember that as an undergraduate, choosing Women's Studies as a minor felt like choosing a subculture of some kind. Maybe that was true. But I am so grateful for what those courses opened for me, and for what my classmates and professors gave of themselves in class discussions, in performances, and in rallies or 'actions'. And however shy or embarrassed I could feel about myself as a young feminist, I'm also proud of myself for taking the risk. Women's Studies courses gave me permission to invest in the classroom as a way to invest in my life outside of it."
[May 2009]